Making Sense of Modern Marketing Tactics
Tri-C Digital Marketing Boot Camp teaches the essentials of developing and utilizing a digital marketing strategy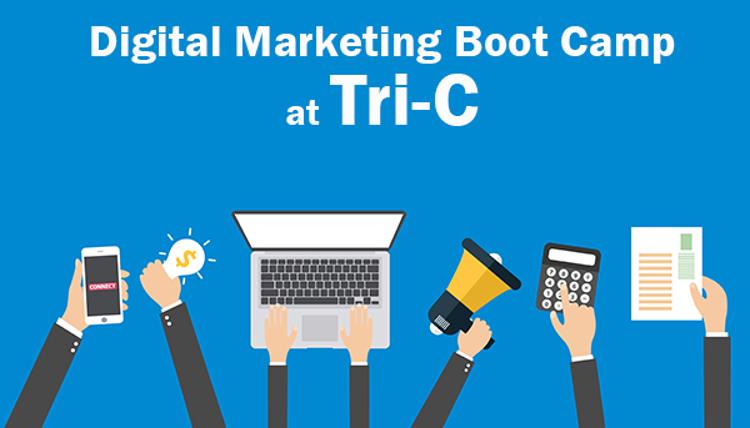 Technology might be the greatest invention — and the greatest challenge — the marketing field has ever encountered.

In the past 10 to 20 years, many new tools have been added to marketers' toolboxes. A field that was once primarily driven by print, television and radio advertising now has a vast array of digital options. Marketers now have websites, streaming video, social media, microsites, email blasts and a host of other media at their disposal.

The means of reaching potential customers has grown by leaps and bounds, but it's created an entirely new problem: What do you do with all of it?

Cuyahoga Community College is giving established marketers, and those interested in developing marketing skills, some answers with the Digital Marketing Boot Camp offered by the IT Center of Excellence at Corporate College® East in Warrensville Heights.

The series of courses is taught by Lindsay Sims, founder and CEO of Cleveland-based digital marketing firm Lauren Loft Social.

"This all grew out of a panel discussion that I was a part of two years ago," Sims said. "Monique Umphrey, Tri-C's director of workforce development, was a part of the panel, and we were talking about how many tech-related jobs are out there. It led to a longer conversation about how we should be looking at digital marketing jobs as tech-related."

Many companies are seeing the value in developing a digital marketing strategy but having trouble finding qualified digital marketing experts who are familiar with how to use the existing and emerging technology.

"Companies both here and around the country are starting to develop positions that are focused specifically on digital marketing, and they're looking for people to fill those positions. That's where the boot camp comes in," Sims said. "You can't just have a website or an app anymore.  Companies have to know how to utilize all of the available platforms — and that's where it's valuable to have a qualified digital marketing specialist on staff."
 

Creating digital marketers
The 10-week boot camp is divided into nine units, each focusing on a different aspect of digital marketing technology or digital marketing strategy. The course structure allows participants to gain an overall primer on digital marketing or to focus on a specific area, such as social media or marketing analytics.

"Each week, participants complete eight hours of online learning modules along with five hours in class," Sims said. "The online modules allow each person to explore different areas of the field, and we go on a deeper dive into the subject matter in class."

Certification tests are offered at the end of some units.

"For instance, we'll do a week on Google Analytics, and have a certification test at the end of that week," Sims said. "We'll do the same with Google AdWords. We try to give people an opportunity to quickly receive the certifications they want, which helps them get ahead in their careers — and it helps put more qualified digital marketers into the workforce, which benefits the region's businesses."

Even though someone might attend the boot camp to learn more about a specific aspect of digital marketing, Sims said the real value of the course is that it's comprehensive. Participating throughout the entire 10 weeks of the course allows attendees to gain a well-rounded view of digital marketing, which is necessary when trying to understand how to build the right strategy.

Digital marketing isn't one-size-fits-all. One business might be able to reach a high number of customers via Facebook, whereas another might have more luck with Instagram or Pinterest. One business might find a lot of readers for a website blog, while others might see results by posting video content.

"We show the 'why' behind the 'what,'" Sims said. "Why certain media platforms reach certain audiences, how their functionality works, how you can find the platforms that are going to deliver the best results for your business."


Skills for the future
The key point to remember is that digital marketing is always evolving. New platforms and methods are always emerging, and the more you know about the entire landscape of digital marketing, the more effective and in-demand you'll be as a marketer.

"Digital marketing is everywhere, and that's a good thing," Sims said. "It's a big part of how we communicate with each other. So it's really good to learn about digital marketing as a skill set or as a profession. It will prepare you for the future."

For more information on future Digital Marketing Boot Camp sessions, and to register, visit the digital marketing page on Tri-C's website.
August 15, 2018
Erik Cassano, 216-987-3577 or erik.cassano@tri-c.edu