Making Good on a Promise
Nicholas Jarrett makes grandmother proud with associate degree in auto technology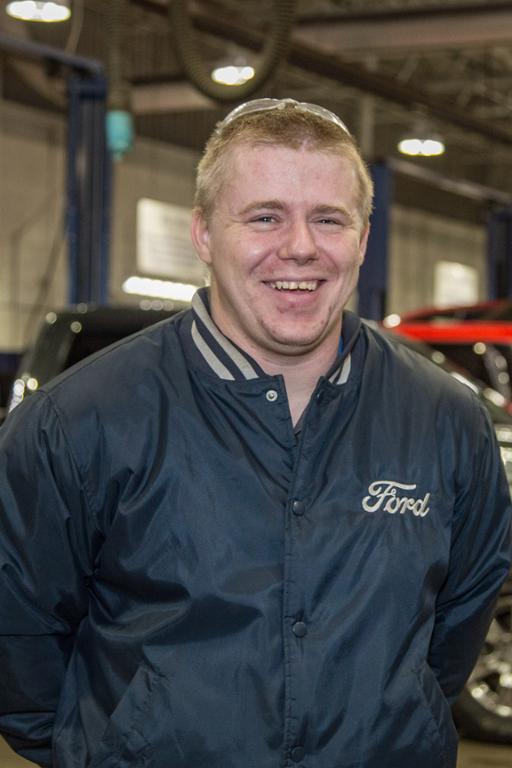 When Nicholas Jarrett collects his Associate of Applied Science degree in Automotive Technology from Cuyahoga Community College (Tri-C®) this month, he will be making good on a vow he made to his grandmother.
"My grandma told me education mattered, and I trusted her," Jarrett said. "I made a promise to my grandmother to graduate from college."
That promise seemed far-fetched at one time. Jarrett dropped out of Parma Senior High School as soon as he turned 18. He never saw himself as much of a student, and he needed a job to help with bills in his household. A year later, he moved in with his grandmother.
After earning his GED at his grandmother's behest, he surveyed the landscape and wondered, "What next?"
The answer took him to Tri-C.
Cuyahoga Community College was a familiar name in his family. Jarrett's grandmother, one of his aunts and some of his cousins all took courses at Tri-C.
When Jarrett visited Western Campus, a counselor introduced him to the College's Automotive Technology program. It seemed like a perfect fit, as he used to work on cars in the backyard with his father.
Jarrett said he felt confident he could find work in the field, since Tri-C's Auto Tech graduates have a nearly 100 percent job placement rate.
He enrolled at the College in 2011 — the same year he bought his first vehicle, a green 1995 Ford Ranger. He found a family atmosphere in the College's Advanced Automotive Technology Center as well as a friendly ear in program director Kathleen McCarthy.
Jarrett has already earned a pair of certificates through Tri-C's Auto Tech program, leading to a full-time job at Bob Gillingham Ford in Parma. His grades also led to an invitation to join Phi Theta Kappa Honor Society.
"All the tools were in place to help me succeed," said Jarrett, 27, of Middleburg Heights. "I feel really good about [earning my degree]. It's been a confidence builder for me."
After receiving his degree, Jarrett plans to continue taking classes — possibly in computer programming.
It appears grandma's message got through.
"She teared up when I told her I was graduating," Jarrett said.
Cuyahoga Community College will celebrate the academic achievements of more than 1,800 graduates on Dec. 18 at Fall Commencement. Check our News and Events page in the days leading up to the ceremony as we highlight members of the Class of 2018.
December 14, 2018
Jarrod Zickefoose, 216-987-4750 jarrod.zickefoose@tri-c.edu