Making a Difference: Katherine O'Neill Honored by Tri-C Foundation
Longtime board member recognized with the inaugural Chairperson's Award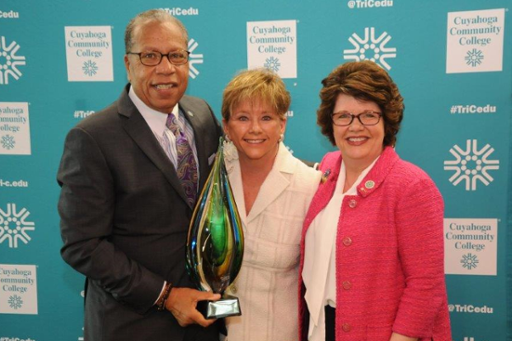 The Cuyahoga Community College Foundation recently presented its inaugural Chairperson's Award to Katherine O'Neill in recognition of her dedicated service to the organization and its mission for nearly two decades.
The new award honors individuals for long-term and significant engagement with the Tri-C Foundation. O'Neill joined the Foundation board in 2001 and serves as chair of the Committee on Directors. Previously, she was the organization's secretary.
In recognizing O'Neill, Foundation leaders commended her for her collaboration, strategic thinking and work benefiting Tri-C students.
The College is one of many Northeast Ohio institutions where O'Neill has made a difference over the years. Her involvement also includes service with the Cleveland Museum of Art, the Musical Arts Association of The Cleveland Orchestra, Case Western Reserve University and others.
She also serves on the disbursement committee at the William J. and Dorothy K. O'Neill Foundation, which reflects her family's commitment to philanthropy.
O'Neill, of Hunting Valley, received the Chairman's Award during the Foundation's annual meeting.
July 31, 2019
John Horton, 216-987-4281 john.horton@tri-c.edu