Legal Eagles Learn to Fly at Tri-C
Paralegal Studies program is a first step for many future lawyers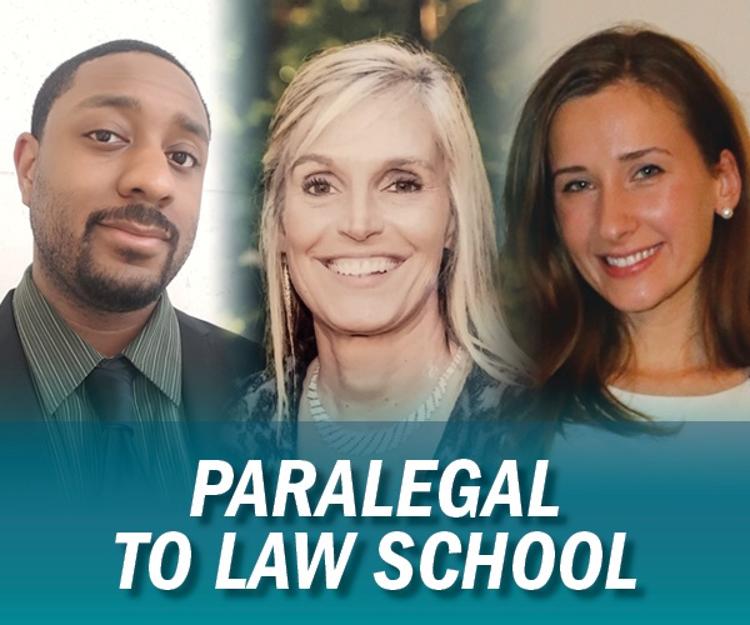 Pre-law. Law school.

They're terms that evoke images of old schools with venerable names. Libraries with tall windows and large wooden tables. Shelves with books full of precedent-setting cases and centuries of legal theory.

But if that's your sole view of a modern law education, you should take another look. Many students are discovering unconventional ways to pave their path to law school. The Paralegal Studies program at Cuyahoga Community College (Tri-C®) is one of them.

How can a paralegal program set the stage for an eventual career as an attorney? Simply put, it's all about practical knowledge and experience.

"A paralegal is sort of the law equivalent to a nurse practitioner," said Candice Storey, director of Tri-C's Paralegal Studies program. "They act as the attorney's right-hand person. Under the supervision of an attorney, paralegals may perform a variety of tasks historically performed by attorneys, including drafting complaints, corresponding with clients and legal research."

Though paralegals perform a wide range of tasks, Storey notes that attorneys must still be the ones to give legal advice, set legal fees, accept new clients and represent clients in court.

The Tri-C Paralegal Studies program offers a two-year associate degree and a one-year post-degree certificate track. Both paths prepare students for paralegal careers, but some graduates may choose to enter a pre-law bachelor's degree program or even jump straight into law school — depending on their prior postsecondary education.

Students in Tri-C's program must take two semesters of legal research and writing, along with courses that emphasize communication skills, legal technology and critical thinking. Prior to receiving their degree or certificate, students must also complete a practicum in a legal office, such as a private law firm, legal department of a company or public defender's office.

Jodi Baron, a 2017 graduate of the Tri-C program, said her practicum at the Office of the Federal Public Defender in Cleveland played a big role in her interest in litigation.
 
"Tri-C's program is well-known within the community," said Baron, 57, of Cleveland's West Park neighborhood. "They have a great reputation, so when Candice [Storey] told the public defender's office that they had someone interested in doing their practicum there, they didn't blink. They knew I had the background necessary to work there."

Baron, who decided to pursue a law education after years in the sales field, began classes at the University of Akron School of Law in January.
Well-rounded education
Students who complete a paralegal education often find they are better prepared for the first year of law school than their classmates. While the Paralegal Studies curriculum at Tri-C covers many of the same concepts  a student would find in the first year of law school, Storey says the difference is in the application of the knowledge.

"Though our graduates find they're covering some of the same material in law school, they get it from two different perspectives," she said. "Our program focuses on practical skills, such as drafting legal correspondence and filing legal documents in court. In law school, they focus more on theoretical skills, such as developing arguments for a case."

Tina Ramishvili, a 2018 graduate of the program, saw the advantage firsthand when she entered the Cleveland-Marshall College of Law at Cleveland State University.

Born in the country of Georgia, Ramishvili moved to the United States in 2015 while in the process of finishing a political science degree at Baltic International Academy in Riga, Latvia. She expects to graduate from Cleveland-Marshall in 2022.

"The saying is that paralegals know more than attorneys because they do so much of the work," said Ramishvili, 25, of Parma. "I saw how important it is to have that foundation of knowledge as you enter law school. And Tri-C's program prepared me tremendously. Not only with law, but in even more basic things like English, since it's not my first language. They helped me with so much."

Many other students are drawn to Tri-C's program because of its reputation for being challenging yet supportive. It offers an unvarnished view of the challenges and rigors of working in the legal field while still providing the encouragement that empowers students to pursue their dreams.

"From the professors all the way up to the director, they're all very supportive of you and set you up to pursue your goals," said Donnell Walker, who graduated from Tri-C with a paralegal certificate in 2018.

Walker, 33, of Warrensville Heights, will enter Cleveland-Marshall this fall. He is also studying for a master's degree in public administration at Cleveland State.

"I hope to become a federal judge someday, and Tri-C served as my springboard," he said. "I keep in touch with people from the paralegal program, so that support is still there even after you graduate."
Growing in numbers
Baron, Ramishvili and Walker are three members of a growing pool of Tri-C Paralegal Studies graduates continuing their education at four-year schools. Following the 2018-2019 academic year, 18% of Tri-C's paralegal graduates transferred to a subsequent institution. That's up from 15% following the 2017-2018 academic year.

Some pursue an advanced law degree, while others put their paralegal skills to work in other areas of study.

"Legal skills are applicable in a lot of areas," Storey said. "I think many students are drawn to that. You develop critical thinking and analysis skills, which can be very useful in other disciplines and vocations. In our program, we strive to have our students master every necessary skill. It's a big reason why we have such a strong reputation in the legal community."

The Tri-C Paralegal Studies program is approved by the American Bar Association. The program enrolls new students every semester, with an average of 125 students in the program at a given time. For more information, visit the program page on the Tri-C website.

"Nobody thinks about Tri-C as a path to becoming a lawyer or a judge, but they should," Walker said. "The knowledge you gain, and the belief you gain in yourself if you're willing to work hard — it's so valuable. I recommend Tri-C to anyone looking to take that first step."
July 21, 2020
Erik Cassano, 216-987-3577 or erik.cassano@tri-c.edu