Learning to Play a Different Keyboard
A longtime piano player, Brittaney Byers is playing a new set of keys in a new career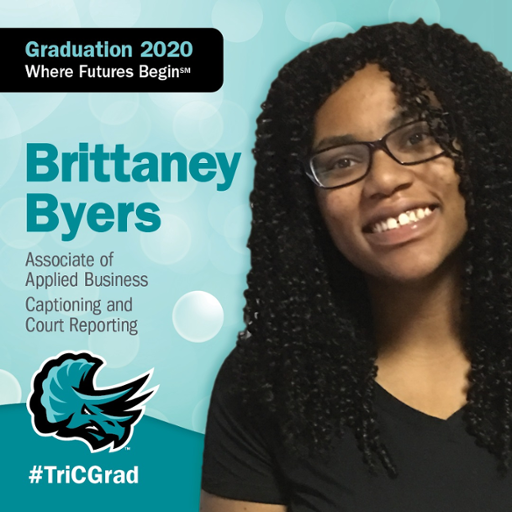 Brittaney Byers' skill with the stenotype machine began taking root in a very different place.
For most of her life, she trained as a pianist. Lessons that began at age 4 built a momentum that eventually carried her to Cleveland State University to study music. She long envisioned a life centered on fingers dancing across black-and-white keys.
But it was not to be. She left CSU after a short time as her life took on a different rhythm. That new beat led to Cuyahoga Community College (Tri-C®) and a career she never envisioned.
Byers will graduate from the College this month with an Associate of Applied Business degree in captioning and court reporting. The 26-year-old from Cleveland already has a job lined up with Cady Reporting Services, where she interned.
A tacked-up flyer Byers spotted in 2017 introduced her to the program, in which students learn how to quickly and accurately transcribe spoken words into text. It sounded interesting, so she decided to give it a try. Byers was able to take most of her classes online.
Program staff arranged for Byers to receive a stenotype machine for use at her home. When it arrived, she opened the box and quickly set it up. As she started using the machine, something felt familiar.
"The touch of the keys and placement of my fingers was just like playing the piano," she said.
Byers practiced daily on the stenotype to build her skills. She took advantage of networking opportunities arranged through the program, too, including a bus tour to meet court reporters working in the field.
Her internship with Cady Court Reporting grew from contacts made through the College.
"The professional development opportunities and real-world experiences gave me the confidence to finish my degree and really lifted my spirits," Byers said. "The love and support the faculty and staff showed me was awesome."
Cuyahoga Community College will celebrate the academic achievements of approximately 2,500 graduates on May 14 during a virtual ceremony. Check our News and Events page in the days leading up to the online event as we highlight members of the Class of 2020.
May 12, 2020
Kathy Gill, 216-987-4704 kathy.gill@tri-c.edu