Learning to Make a Difference
Jarusha Weeks launched a student support group at Eastern Campus on the way to graduation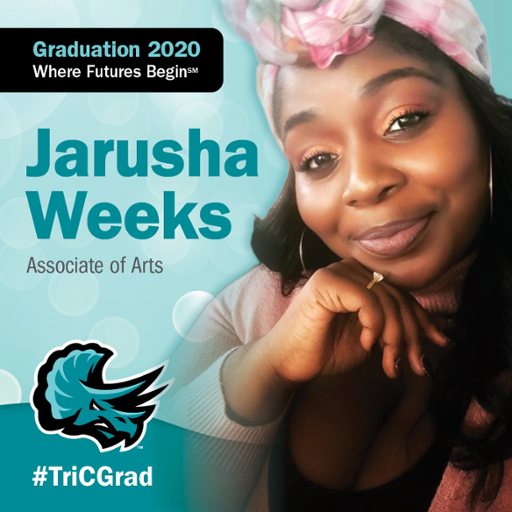 The classmate approached Jarusha Weeks, as many do while she's out and about at Eastern Campus performing her duties as a Cuyahoga Community College (Tri-C®) student ambassador.
This conversation, though, was different. The student just started talking about the emotional turmoil gripping her life and the difficulties of her day.
The encounter spurred Weeks — an aspiring social worker — into action. She formulated a plan that led to the creation of E4, a student support group that will continue helping others long after Weeks graduates from Tri-C this month with an Associate of Arts degree.
The group's name comes from the idea of students connecting "eye to eye, ear to ear" to see and hear other viewpoints, said Weeks, 28, of South Euclid. She said it's critical for students to have a safe place where they can share feelings and find a direction forward.
"We live in an era where mental illness, depression, anxiety, suicide and violence is a new norm but also issues deemed too sensitive to talk about," she said. "Our learning institution becomes our second home. We need to have a space to discuss our troubles with welcoming support."
Weeks said the support structure within Tri-C helped her make the four-year journey to graduation. She moved steadily forward while balancing her studies with two jobs and family responsibilities.
Resources at the College provided academic guidance as well as opportunities for professional and social growth, she said.
"Tri-C has truly built a 'community' within the institution," Weeks said.
She became part of that community as a Jack, Joseph and Morton Mandel Scholar and an officer with Phi Theta Kappa Honor Society. She also served as a student ambassador for two years and worked in the campus president's office.
"Everything I did, I looked at it as a link in the system to help others find success," Weeks said.
Now that she has her degree from Tri-C, Weeks plans to transfer to Cleveland State University to pursue a bachelor's degree in social work. She hopes to eventually work as a counselor for at-risk youth, creating programs that challenge perspectives and shape responses.
Cuyahoga Community College will celebrate the academic achievements of approximately 2,500 graduates on May 14 during a virtual ceremony. Check our News and Events page in the days leading up to the online event as we highlight members of the Class of 2020.
May 01, 2020
John Horton, 216-987-4281 john.horton@tri-c.edu