Learning to Lead
Joshua Otis shed his shyness to make a difference at Tri-C's Metropolitan Campus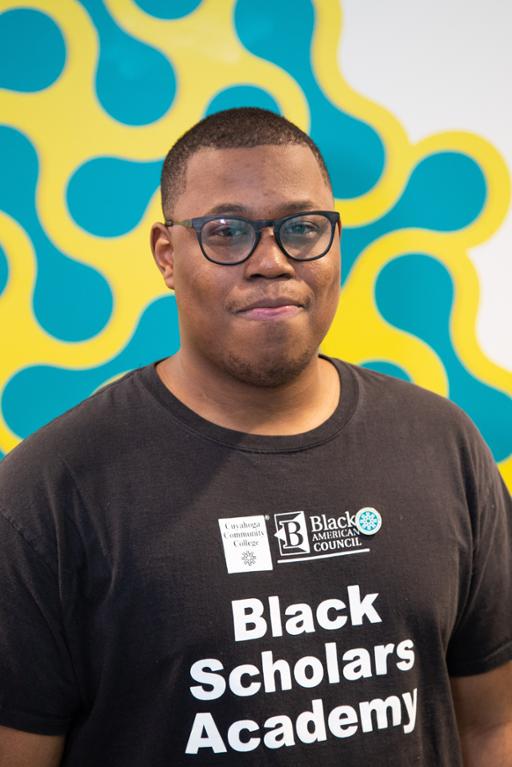 Hood pulled tight over his head, Joshua Otis tried his best to be invisible as he entered his first Black American Council meeting at the Metropolitan Campus of Cuyahoga Community College (Tri-C®).
Otis found a spot against the wall and settled in. He kept his mouth closed. His ears, though, took in every word as the conversation circled around topics such as leadership, brotherhood and service to the community.
Minute by minute, his shyness melted away. Motivation took its place.
"I wanted to be the sort of leader they were talking about," Otis said. "Being in that room, being part of that group … it inspired me to do more. It popped the bubble I was in. From that moment on, I never turned back."
Otis emerged as a Metro Campus leader while working toward his soon-to-be-awarded Associate of Applied Science degree in criminal justice. His legacy includes launching food drives that twice stocked the campus pantry after supplies ran low.
The 22-year-old Cleveland resident spent this past semester as vice president of Black Scholars Academy on campus. The academy is a mentorship program within Black American Council (BAC).
Jacques Smith, program manager for BAC, said he saw a switch flip in Otis during his time at the College. The introvert he remembered from that first meeting became an outward force.
"Josh decided that he wasn't going to stand in the back of the room with his hands in his pockets," Smith said. "He put those hands out to help others. He became a person others could look up to."
Otis spent most of his childhood in Cleveland before moving south and graduating from high school in Georgia. He returned to Northeast Ohio soon after and enrolled at Tri-C to begin a well-mapped career quest.
His degree at Tri-C — which he'll receive at this month's Spring Commencement — is just the first step. Otis intends to transfer to a four-year school in the fall to continue his education and earn a bachelor's degree. After that, it's on to law school to get his juris doctorate.
Otis then envisions himself joining a law firm before establishing his own practice. Eventually, he wants to become a judge.
"I never would have thought I could do all of this if it wasn't for Tri-C," Otis said. "I've changed here. I have a better understanding of what it takes to succeed, of what it takes to be a leader. I'm ready to step up and make a difference."
Cuyahoga Community College will celebrate the academic achievements of thousands of students on May 16 at Spring Commencement. Check our News and Events page in the days leading up to the ceremony as we highlight members of the Class of 2019.
May 01, 2019
John Horton, 216-987-4281 john.horton@tri-c.edu