Kindling a Fire
Biology Professor Michael Rowan encourages critical thinking and an appreciation of the natural world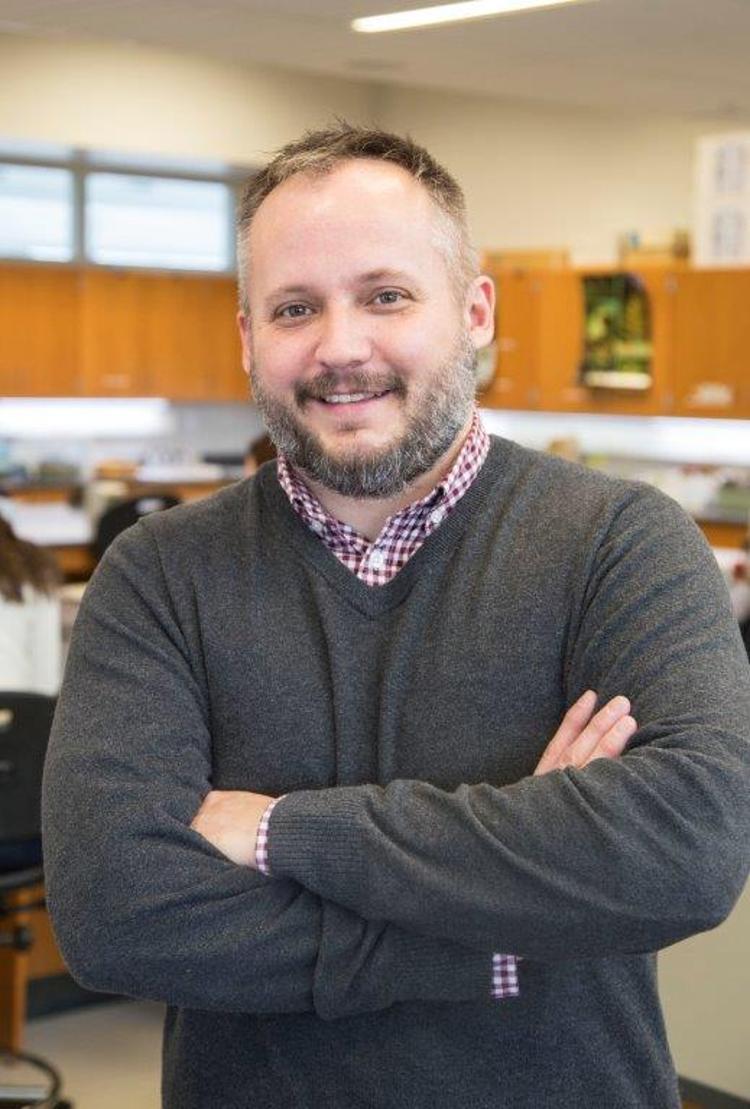 Michael Rowan doesn't believe in science — and there's a good reason why.
"It isn't something you can believe in or not believe in," he explained. "When there's overwhelming evidence supporting something, it must be accepted as truth. That's the way science works."
As an assistant professor of biology at Cuyahoga Community College, Rowan brings his passion for scientific literacy to the labs and classrooms at Eastern Campus. But teaching wasn't always part of his career plan. 
Growing up in Lake County, Rowan loved the outdoors. "Exploring the woods, digging in the dirt. That's what I liked best."
While majoring in biology at John Carroll University, he developed an interest in ecology — particularly ecotoxicology. After graduation, he entered a master's program in environmental science at The Ohio State University.
That's where Rowan found his true calling.
After several months of field study researching the effects of various contaminants on Lake Erie's fish populations, he became a teaching assistant in OSU's biology department.
"When I went into grad school, I didn't think I'd end up teaching," said Rowan. "I was nervous at first. But as I got more comfortable, I found I enjoyed sharing my love for science with others. That's what really hooked me."
When he was offered a lectureship at Tri-C's Western Campus in 2002, Rowan decided to put his studies on hold and take the job. Besides reuniting him with family and friends in Northeast Ohio, the position provided an opportunity to get his foot in the door to academia.
Within six months, he accepted a tenure-track position at Eastern Campus. Fifteen years, a marriage, two kids and a Ph.D. later, Rowan is a tenured professor serving as faculty coordinator for the biology department.
Teaching at Tri-C gives Rowan the opportunity to meet a new and diverse group of students each semester. Whether they're straight out of high school or enrolling in college after years away from the classroom, he relishes the chance to get to know each student and guide them on their academic journey.
It helps that his subject matter needs no translation.
"Although students from different cultures can differ greatly in politics, philosophy and religion, they can all speak the language of science," he said. "It's universal."
Most of his students are science majors working on prerequisites for health career programs or building credit hours to transfer to a four-year university. Regardless of their end goal, they can expect to work hard in Rowan's class.
"There's a famous quote from Plutarch, 'The mind is not a vessel to be filled, but a fire to be kindled," he said. "I guide my students to the resources they need, and after that it's on them to experiment, observe and draw their own conclusions."
But not all of them are up to the task — at least not initially.
Rowan has learned that the best way to reach unmotivated or disengaged students is to make a personal connection. In these situations, finding the right icebreaker is key.
"It's my responsibility as a professor to find a way to connect with every student," he said. "Even something as simple as commenting on a rival team's jersey that they happen to be wearing. Those conversations often lead to them opening up and performing better in class."  
The campus' relaxed atmosphere and the flexibility of his job make any challenges worthwhile. But like anyone else, Rowan needs time to de-stress — and he knows just the place.
"After a busy day at work, I like to go sweat in my yard," he said. "Just get in the dirt. My gardens are mainly ornamental — a lot of native plants."
Rowan also serves as chairman of the board of management for the Mentor Marsh, one of the largest remaining natural marshes along the shores of Lake Erie. The marshlands are home to hundreds of species of birds, fish and other wildlife.
"It has a lot of environmental challenges, like salt contamination and invasive plant species," he said. "I also live within the watershed, so it's important to me that I help raise awareness around these issues."
Ultimately, Rowan's goal as a teacher and an environmental advocate is to help others learn to respect and trust science.
"Throughout the course of human civilization, science has helped us sustain and support ourselves by way of medicine, agriculture and other advances," he said.
"If we can't trust science — which ultimately leads us to truths about the natural world — then we won't last very long as a society."
March 27, 2018
Beth Cieslik, 216-987-4538 beth.cieslik@tri-c.edu