JazzFest Announces Lineup Change for Sept. 12
Banda Magda canceled; replaced by Harp vs. Harp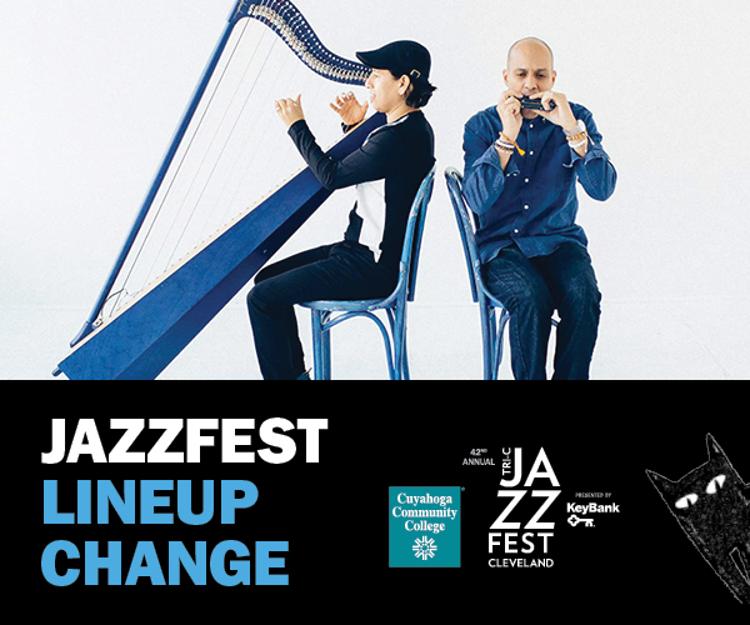 Tri-C JazzFest Cleveland, presented by KeyBank, has announced a lineup change for its 42nd annual festival, Sept. 11-12 at Cain Park in Cleveland Heights.

Due to travel restrictions between the U.S. and Europe caused by the COVID-19 Delta variant, Banda Magda's performance has been canceled. Jazz vocalist Catherine Russell will move to the 8 p.m. time slot Sunday, Sept. 12, while Sunday's 6:30 p.m. concert will now feature Harp vs Harp: Edmar Castaneda and Grégoire Maret.

"While we're disappointed that Banda Magda can't be here, we're excited to present two extraordinary musicians who will thrill Clevelanders with their virtuosity," said Terri Pontremoli, festival director.

Castaneda, a flashy Colombian harpist, and Maret, a virtuoso Swiss harmonica (mouth harp) player, perform as a unique duo, expressing their shared love of Brazilian music and jazz and showcasing their strong musical affinity.

Over its two-day run, JazzFest will include 10 concerts under the covered Evans Amphitheater plus vendors, food trucks and a jazz talk tent.

The 2021 lineup also includes Lakecia Benjamin, Emmet Cohen, Marquis Hill, Catherine Russell, Spanish Harlem Orchestra and many others. Visit tri-cjazzfest.com for the full lineup and schedule.

Passes, sold by the day, are available through ticketmaster.com or by calling 216-371-3000. Reserved passes are tiered, available for $50, $65, $75 and $100. Lawn seating is $35.

Tri-C JazzFest Cleveland is made possible by Cuyahoga Community College, KeyBank, the National Endowment for the Arts, the Ohio Arts Council, The George Gund Foundation, Strassman Insurance Services Inc., and a growing list of donors and vendors. Cain Park is owned and operated by the city of Cleveland Heights.
August 03, 2021
Erik Cassano, 216-987-3577 or erik.cassano@tri-c.edu