Irie Jamaican Kitchen Opens Third Location
Tri-C culinary graduate Omar McKay expanding restaurant concept to Akron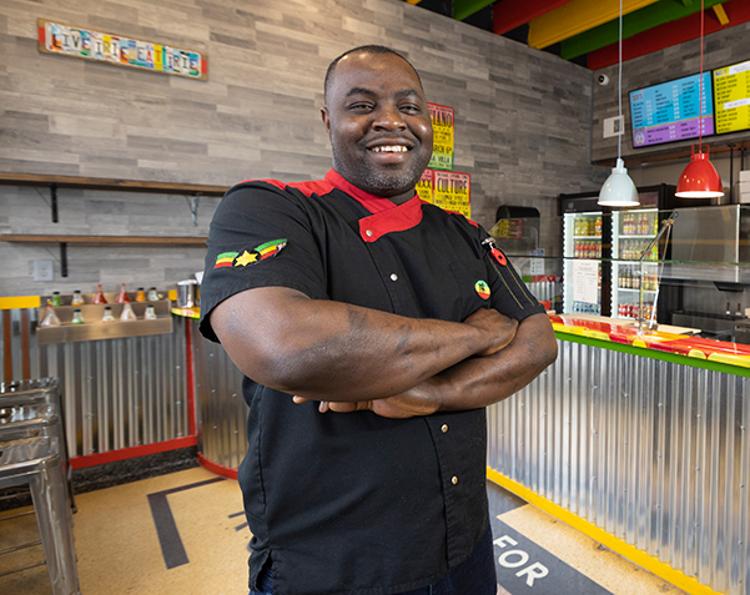 Omar McKay is bringing the specialties of his native Jamaica to another part of Northeast Ohio.

The 2011 graduate of the Culinary Arts program at Cuyahoga Community College (Tri-C®) opened a third Irie Jamaican Kitchen location Tuesday — this time in Akron's Highland Square neighborhood at 837 W. Market St.

McKay opened his first restaurant, Irie Patties, at Richmond Town Square in 2013. After a few menu tweaks, he moved, opening the first Irie Jamaican Kitchen location at 621 E. 185th St. in Euclid in 2016.

With a menu featuring curry and jerk variations of beef, chicken and shrimp, oxtail, and vegetarian options such as rice and peas, cabbage and fried plantains, the new concept quickly became a hit with locals.

In December 2019, McKay opened a second Irie location on Cleveland's west side, at 4162 Pearl Road. Less than two years later, he set his sights on Summit County.

"I am humbled and blessed to be in the community of Akron and to bring my visions of the new era of authentic and fusion Jamaican cuisine," McKay said in a Cleveland Scene article highlighting the new location. "This is our third location in northeast Ohio, and we cannot wait to share all of the vibes with you."

Visit Irie Jamaican Kitchen's website for menus and additional information.
May 19, 2021
Erik Cassano, 216-987-3577 or erik.cassano@tri-c.edu