Immediate Results
After 17 years as a personal trainer, Sunshine Smith is starting a new career with a Tri-C massage therapy degree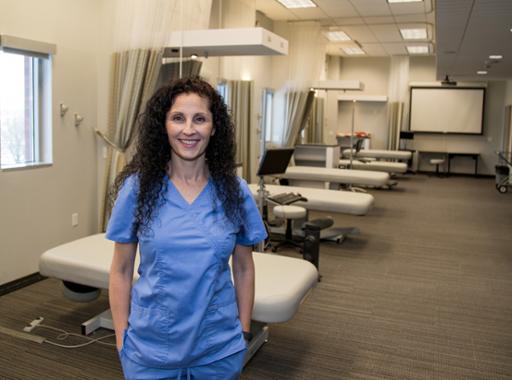 Sunshine Smith was a personal trainer for 17 years. She liked the work, but it took months and years for her clients to see results.
It's why she was drawn to the immediacy of massage therapy several years ago.
"In personal training, you are relying on other people to get to a place where they can see results," Smith said. "In massage therapy, you as the therapist have much more direct control over the outcome. You're helping the body immediately, in the span of a single session."
When Smith began researching massage therapy degree programs, she quickly zeroed in on Cuyahoga Community College.
"They had the highest pass rate I could find," said Smith, 40, of Solon. "They graduate students, and their graduates go to work in the field. I looked at other schools, but when I found the program at Tri-C, it was a pretty easy choice."
At Tri-C, she found a knowledgeable and supportive network of faculty that are, as she put it, "pulling for their students." 
"You see very quickly that the faculty not only know the material, they are there for the students," she said. "They want them to succeed. I felt very comfortable going to Tri-C, and that's in addition to the other benefits, such as hands-on training in Tri-C's massage therapy clinic and low tuition cost. Tri-C had the whole package I was looking for."
Smith will graduate with an Associate of Applied Science degree in Massage Therapy this month. She has already passed the Ohio massage therapy licensure exam and secured a job at a chiropractor's office in Northfield.
"Post-graduation, I plan to continue to work there, helping to build the business and develop a client base," Smith said. "But it all started at Tri-C. I'm thankful to Tri-C and the people in the Massage Therapy program for giving me an opportunity to launch a new and rewarding career."
Cuyahoga Community College will celebrate the academic achievements of nearly 2,000 graduates on Dec. 18 at Fall Commencement. Check our News and Events page in the days leading up to the ceremony as we highlight members of the Class of 2018.
December 12, 2018
Erik Cassano, 216-987-3577 erik.cassano@tri-c.edu