Illustrating Success
Holly Bonney used art to overcome personal struggles and earn an associate degree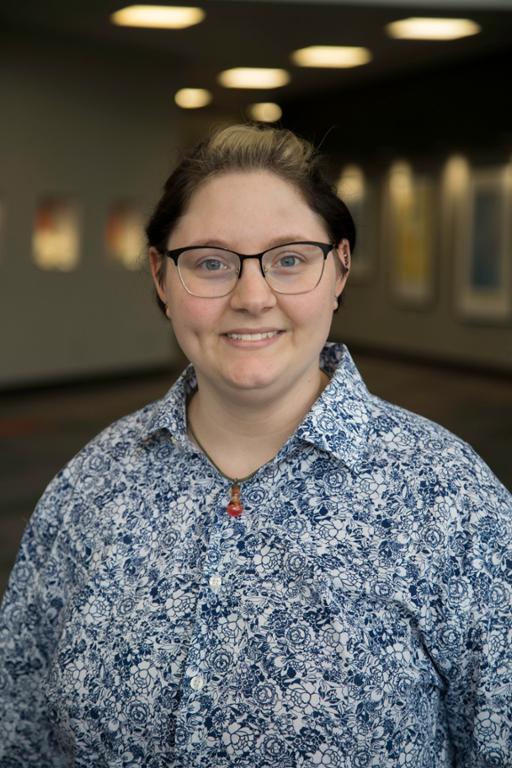 Many students come to college without a clear idea of what they want to do. Others, like artist Holly Bonney, know exactly where their passion lies.
The Mentor resident will graduate from Cuyahoga Community College (Tri-C®) later this month with an Associate of Applied Business degree in Visual Communication and Design. She will study art education at the University of Akron and plans to become a high school art teacher.
"High school is one of the roughest times for a lot of kids," said Bonney, 22. "I want to help guide them."
Bonney's own teen years were rife with emotional turmoil stemming from various personal struggles, including bullying. She often felt depressed or disconnected, but there was one place she felt secure: art class.
"Art gave me a way to relieve stress and retreat into my own little world," she said.
During her senior year, Bonney visited Tri-C's Eastern Campus in Highland Hills. One glimpse of its' digital art, drawing and painting studios, and she immediately felt at home.
It's a good thing, too, because she has spent hundreds of hours there over the past three years.
"My dad drops me off on his way to work and picks me up after," Bonney said, "so I'm on campus for 10 or 11 hours two days a week."
Though her first love is illustration, Bonney has explored oil painting, printmaking, digital art, acid etching and other mediums via Tri-C's robust visual arts program. One of her paintings even made it into a national competition last year.
"I didn't win, but I was honored to be a part of it," she said.
In the midst of her success, however, Bonney slipped into another period of anxiety and depression. This time, it was debilitating. She struggled to get up and out of bed for work and school.
Once again, she turned to her art — and her teachers — for strength and support.
"Professor [George] Kopec was especially understanding," said Bonney. "He worked with me so I was able to pass all my classes."
Bonney's father played a major role in her ability to succeed in college, as did her grandfather, who recently passed.
"He was a huge inspiration for graduating and for being a good person," she said. "Before I'd leave his house, he'd say 'Be a good girl,' and I'd say 'I will.'
"I'm fortunate things turned out the way they did. It makes me want to do even better."
Cuyahoga Community College will celebrate the academic achievements of more than 1,800 graduates on Dec. 18 at Fall Commencement. Check our News and Events page in the days leading up to the ceremony as we highlight members of the Class of 2018.
December 15, 2018
Beth Cieslik, 216-987-4538 beth.cieslik@tri-c.edu