Hoop Dreams Come True
Five Tri-C sophomores comprise one of the most successful classes in the history of the men's basketball program — both on the court and in the classroom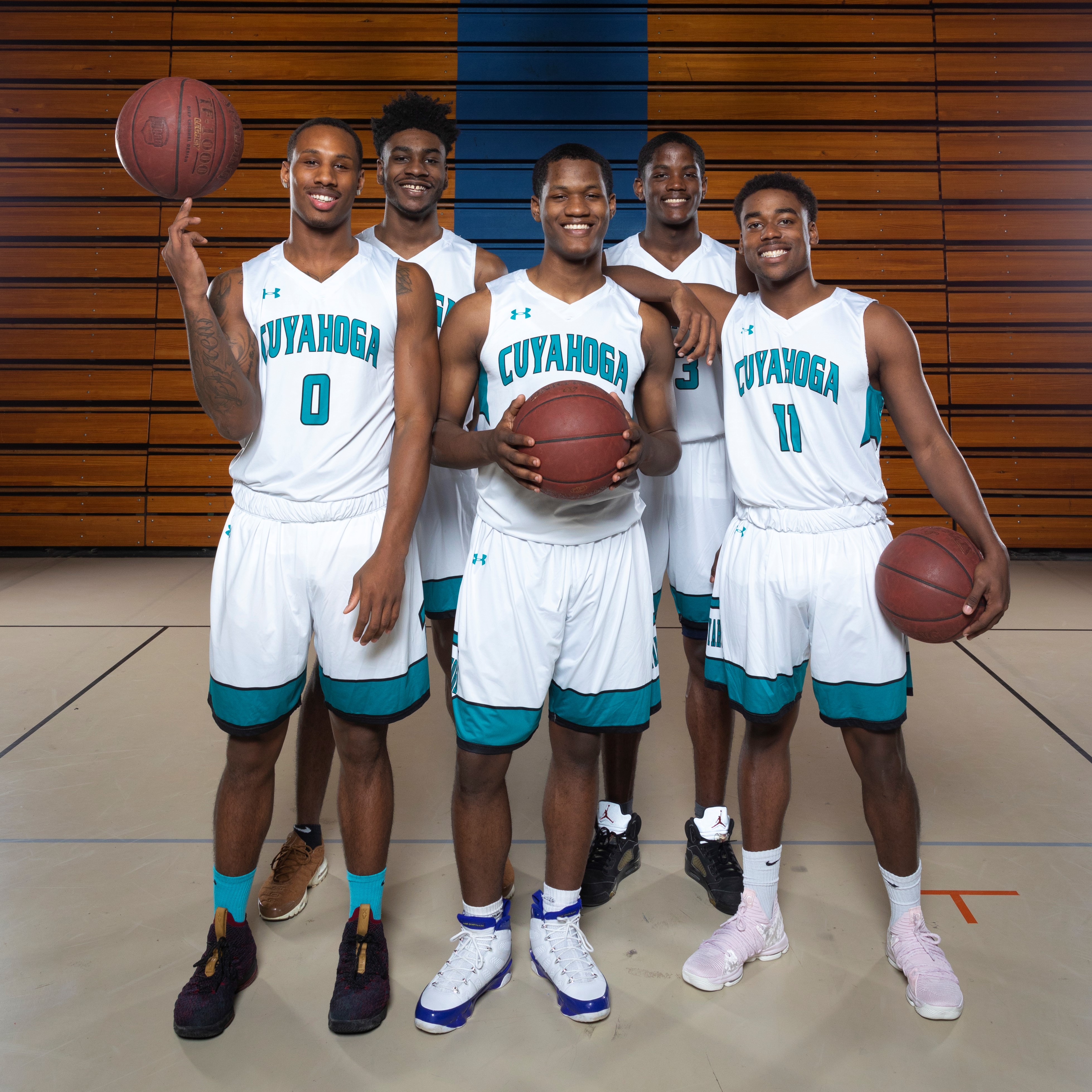 It was a moment to cherish. Something to take out, dust off and relive years from now.
Quintin Dove, Devon Robinson, Larenz Thurman and twin brothers Waheem and Wade Lowman. Cuyahoga Community College's graduating class of sophomore men's basketball players. Five young men about to go their separate ways. They're together for one last time as teammates, for a professional photo shoot.
They've learned so much in their two years at Tri-C. They've learned about teamwork and responsibility, accountability and sacrifice. They've learned lessons that will serve them well in the adult world.
But for a moment, they don't have to concern themselves with any of that. They can stand in the Metropolitan Campus gym, where they compiled much of their incredible 60-5 record over the past two years, wear their white uniforms under their teal graduation gowns and bask in the glow of their achievements — both athletic and academic.
Assistant coach Thomas Coleman watched as this quintet, who grew so much over the past two years,  gathered in front of the camera one final time — arms around each other, laughing and smiling — before they depart Tri-C to continue their basketball careers and education at four-year schools.
"Kind of makes you feel a little something, doesn't it?" a bystander asked Coleman.
"Oh, I cry all the time," Coleman joked.
Time will march on. A new season will commence this fall, with a new cast of returning sophomores and incoming freshmen. The pictures from this day will be used in College literature, but — like all aging pictures — will eventually end up in the depths of filing cabinets, servers and hard drives.
Someday, though, someone will find them again. And someone will remember that this was no ordinary class of graduating sophomores.
To understand why, you have to go back to the beginning of head coach Michael Duncan's tenure in 2013. The team was coming off a 13-16 season, players weren't graduating and the team's collective GPA hovered around 1.8.
"Guys were coming here to play basketball, not necessarily to be students," Duncan said. "As a result, we weren't winning, we weren't graduating students — it wasn't working on any level. So when I came in, my biggest thing was to turn that around."
Duncan saw to it that his players attended study sessions, working with tutors three to four days a week. Good grades and class attendance went a long way toward determining who saw playing time.
"Playing basketball is a reward, not a right," Duncan said. "You have to make it a consequence. You do your schoolwork, you have a chance to play. And if you do really well in class, maybe you get some extra privileges and freedom while we're on the road. But nothing happens if you're not focusing on your classes."
Five years later, Duncan's methods are delivering results. The team's collective GPA now sits over 2.5.
Duncan sees this year's graduating sophomores as a powerful symbol of what is possible for a junior college athletic program. He wants to make the story of this year's sophomore class a yearly occurrence at Tri-C.
"That should be the goal for any junior college athletic program," he said. "You can win games, but the real test is, do your players move on? Do they go to a four-year school and get their bachelor's degrees? These guys did it. I'm just amazed by them, what they've been able to accomplish on and off the court in just two years. They've set the standard for the program, and now it's up to future classes to live up to that."
Dove, the 2017-2018 Ohio Community College Athletic Conference Player of the Year, has committed to the University of Tennessee at Martin. Robinson will move on to California University of Pennsylvania. Thurman will stay local, attending Notre Dame College in South Euclid. The Lowman brothers, from Philadelphia, hope to commit to schools in the near future.
They will scatter to destinations across the map, but they've left an indelible mark on Tri-C — an OCCAC title, a share of a second title and an appearance in the NJCAA Division II National Championship Tournament.
They brought title banners home. They graduated. They redefined what it means to be a Tri-C basketball player. Someday, we'll pull out those old photos from the spring of 2018 and remember.
Cuyahoga Community College will celebrate the academic achievements of more than 3,000 graduates on May 17 at Spring Commencement. Check our News and Events page throughout the month as we highlight members of the Class of 2018.
May 11, 2018
Erik Cassano, 216-987-3577 or erik.cassano@tri-c.edu