Honoring Those Who Served: Tri-C Holds Veterans Day Observance
Program scheduled for Nov. 9 at Western Campus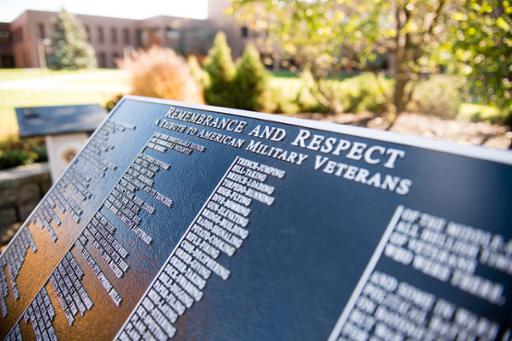 Cuyahoga Community College (Tri-C®) will honor the courageous men and women who served in the nation's military during a Veterans Day observance at 11 a.m. Friday, Nov. 9, at Western Campus.
The remembrance will take place at the Veterans Memorial Garden and Galleria.
"Military service embodies a willingness to sacrifice for the good of others," said Rick DeChant, executive director of the College's Veterans Initiative. "On Veterans Day, we remember that the peace we enjoy is because of those who served."
The program will include a presentation by Tri-C's James Banks — director of the Crile Archive Center for History Education at Western Campus — on "World War I, George Crile and the Founding of the Cleveland Clinic."
The archives serve as a repository of materials about Crile, a Cleveland surgeon who led a Northeast Ohio medical team that treated wounded soldiers in France during World War I. Crile later helped found the Cleveland Clinic.
Tri-C created the archives to preserve and present artifacts that document the experiences of veterans on the battlefield and at home. It focuses on the health and healing of veterans.
Tours of the archives and the College's Crile Veterans Center will follow the Veterans Day observance. Western Campus is located at 11000 Pleasant Valley Road in Parma. Free parking is available.
Tri-C serves thousands of Northeast Ohio veterans every year through its Veterans Initiative. For more information on programs and services, visit www.tri-c.edu/veterans.
October 26, 2018
John Horton, 216-987-4281 john.horton@tri-c.edu