Hometown Pride: 'Chagrin Valley Magazine' Features Members of Tri-C Family
Publication includes stories on Provost Karen Miller and softball coach Bryan Komlos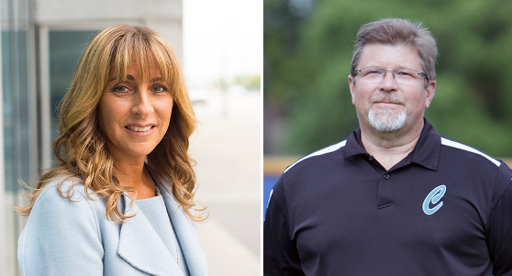 Chagrin Valley Magazine looked toward Cuyahoga Community College (Tri-C®) when profiling community members making a difference.
The annual publication featured Tri-C Provost Karen Miller and Triceratops softball coach Bryan Komlos in its 2019 edition, which recently hit mailboxes throughout the Chagrin Valley on the city's east side.
The story on Miller, the College's chief academic officer, focused on her work leading Tri-C to record graduation rates over the past few years. It outlines initiatives launched to guide students toward graduation.
Miller talked about the opportunities available at Tri-C: "Most people don't realize what's available to them here," she said.
The article on Komlos highlights the softball team's run to the NJCAA championship tournament this past season. He has been the team's head coach for 10 seasons, a period marked with on-field success.
Tri-C has won three Ohio Community College Athletic Conference championships under Komlos and advanced to the national tournament twice.
But Komlos said he takes the most pride in the family atmosphere surrounding the team.
"We care about their grades and academic futures, and it shows," he said.
An online version of the magazine is available by clicking here. The story on Miller is on page 47; the story on Komlos begins on page 50.
October 16, 2019
John Horton, 216-987-4281 john.horton@tri-c.edu