Hip-Hop Hopes: Tri-C Student Launches Recording Studio
Simon Mastri opens Spin Cycle Records to give voice to Cleveland talent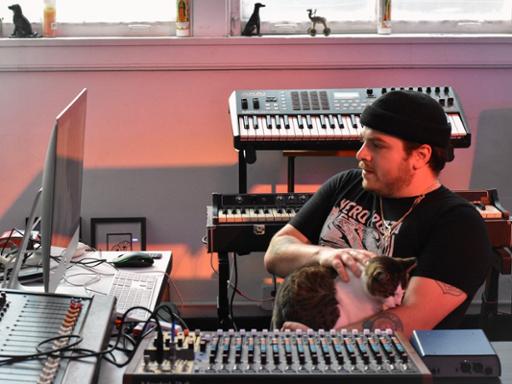 Hip-hop pulses on the streets of Cleveland. That made-in-The-Land sound will stream over headphones across the world if a Cuyahoga Community College (Tri-C®) student has his way. 
Simon Mastri opened Spin Cycle Records "to elevate and support the creative soul" of hip-hop and R&B in Cleveland. The full-service recording studio and early-career navigation hub is based in the city's St. Clair Superior neighborhood. 
Lessons learned in Tri-C's Recording Arts and Technology program serve as a foundation for the business endeavor, Mastri told FreshWater Cleveland writer Jen Jones Donatelli. 
"I initially enrolled at Tri-C to be able to connect my conservatory training with electronic music production," Mastri said. "But after I took a music business class, I realized that what I really wanted to do was help provide more music business infrastructure in the city of Cleveland." 
The team at Spin City Records includes audio and production engineer Giles VonDoom, who is also working toward a degree in recording arts at Tri-C. 
Click here for the full FreshWater story. Visit spincyclerecords216.com to learn about the studio. 
"There is a lot of talent here that has never gone beyond the confines of Cleveland," Mastri said. "We want to provide all the pieces of the puzzle toward becoming a successful artist and being heard."
November 13, 2020
John Horton, 216-987-4281 john.horton@tri-c.edu