High-Achieving Scholars Selected for Tri-C Honors Program Fellowships
Program offers top high school graduates scholarships that cover tuition, fees and books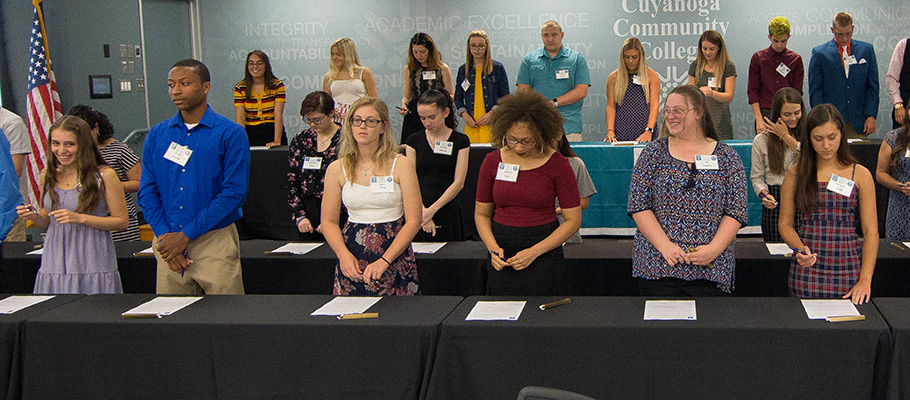 Forty top high school graduates from Northeast Ohio have been selected for a Cuyahoga Community College (Tri-C®) Honors Program Fellowship, which offers scholarships to cover tuition, fees and books as they work toward an associate degree.
The College's sixth fellowship class features students with at least a 3.5 GPA and outstanding ACT/SAT scores. By entering the scholarship program, they commit to being full-time students, maintaining a high GPA and earning a degree from Tri-C within two years.
The students signed commitment letters with the College during an Aug. 7 ceremony at Tri-C's Jerry Sue Thornton Center in Cleveland. Each scholarship — funded by donors to the Cuyahoga Community College Foundation — is valued at up to $5,160 per academic year.
"These gifted students chose Tri-C to begin their college journey," said Herbert Mausser, the College's director of Honors and Scholars Programs. "I look forward to seeing them cross the commencement stage to collect their degrees in the spring of 2021."
The following students, listed by hometown, received honors fellowships to pursue academic success at Cuyahoga Community College:
Bay Village: Haley Sathre
Berea: Marissa Montag and Gage Young
Brecksville: Zachary Benson
Brook Park: Dana Miller and Colton Wright
Brooklyn: Abigail Zonza
Brunswick: Adrianna Kania, Analise Laughlin and Daniel Spade
Cleveland: Juliana Hale, Ivy Hughes, Tanya Medrano, Edlisa Santiago and Alyssa Williams
Fairview Park: Taiylor Sloan
Garfield Heights: June Fertig
Independence: Seamus Kral
Lakewood: Sarah Sacha and Tyler Williams
North Olmsted: Kollin Reddinger and Patience Smith
Northfield: Steven Swiger
Olmsted Falls: Samantha Miller
Parma: Natalya Montemarano, Diana Puts, Zoryana Puts, Ashley Stec and Kathryn Yutzy
Parma Heights: Megan Kiewel and Colin Long
Seven Hills: Brianna Bretz
Shreve: Taylor Miller
South Euclid: Dana Burtin
Strongsville: Malak Hassan
Valley City: Lydia Penix
Westlake: Sophia Abdelhamid and Arielle Kriaris
Wickliffe: Jaclyn Riedthaler and Sarah Riedthaler
The honors fellowship places special emphasis on academic planning, mentoring and portfolio building to reflect student work. Smaller honors class sizes also ensure specialized attention for students.
The program is designed to support eventual transfer to a four-year institution to pursue a bachelor's and other advanced degrees. Previous Honors Program Fellows amassed numerous academic honors on their way to earning associate degrees from the College.
For information on the Honors Program Fellowship and eligibility requirements, contact Mausser at 216-987-4660 or herbert.mausser@tri-c.edu.
August 08, 2019
John Horton, 216-987-4281 john.horton@tri-c.edu