Hacking for Good: Tri-C Student Unlocks Plan Focused on Cybersecurity Careers
Proposal by Samuel Paredes draws notice at civic project competition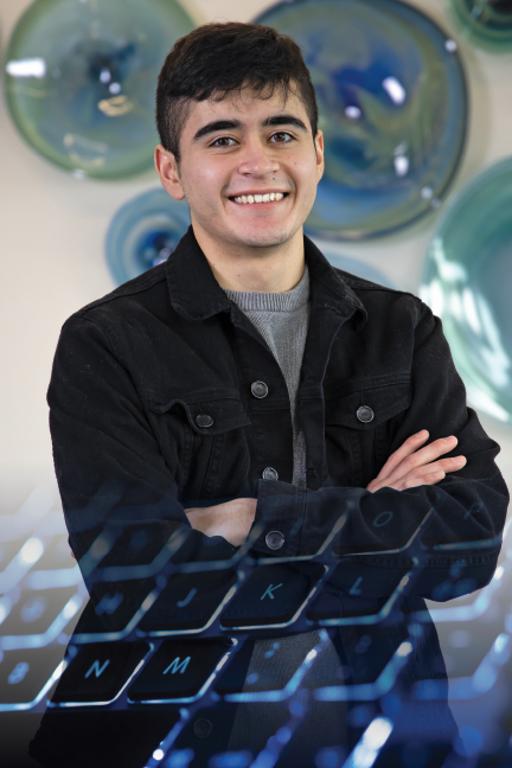 Samuel Paredes is fascinated by what humans can do with technology. It's why the native of Ipiales, a city in southern Colombia, moved to the United States to study computers and IT systems. 
"I've always been interested in every aspect of technology," Paredes said. "Building it, repairing it, finding flaws and problems in systems and fixing them." 
Paredes, a 19-year-old resident of Cleveland's Old Brooklyn neighborhood, came to the city in 2017 as a high school exchange student. He found opportunities for IT education that didn't exist in Colombia and decided to stay for college. 
He enrolled at Cuyahoga Community College (Tri-C®) after graduating from Heritage Christian School in 2019. His interest in discovering flaws and fixing IT systems drew him to study cybersecurity at Tri-C. It also opened his eyes to other possibilities. 
As Paredes' circle of friends and acquaintances broadened within the local IT community, he began noticing a lot of untapped potential. Though they might eventually pursue a formal education, computer enthusiasts are often self-taught through countless hours working in and on computers. 
Some use their skills in careers, some use them to pursue hobbies — and some use them for nefarious purposes, such as hacking. 
Paredes knew that as a future cybersecurity specialist, he'd be tasked with stopping hackers. At Tri-C, he decided to get a head start through an initiative aimed at connecting young, talented IT enthusiasts with education and career opportunities in the field. 
"I came to realize that the many people I share my time and work with are really good at what they do," he said. "I wanted to help them find a way to take that talent and focus it toward a career, even if they think college isn't for them." 
His initiative, called "Hackers Towards Perception," was a finalist in the Technovation category of the "Accelerate 2021: Citizens Make Change" civic-project funding competition, held by the Cleveland Leadership Center in February. 
Though Hackers Towards Perception wasn't awarded funding in the competition, Paredes still wants to bring his idea to life. 
"The idea is to make it free and accessible," he said. "It will be a way for young people 16 to 25 to learn about how the internet and computers work, receive mentorship and possibly have the door opened to a career."
Paredes — a Jack, Joseph and Morton Mandel Scholar at Tri-C — is on pace to graduate from the College this spring with an Associate of Arts degree. He plans to attend Baldwin Wallace University in the fall to study cybersecurity, with projected graduation in 2023. 
He hopes to someday own and operate his own cybersecurity company, perhaps staffed by Hackers Towards Perception alumni. Paredes said he is grateful to Tri-C for helping him expand his horizons and see what is possible in the IT field, both for him and for others. 
"Tri-C helped set the stage for what I want to do next," Paredes said. "The instructors can help take you to the next level with their advice and feedback and the connections they have with other colleges and companies. They really give you a sense of what you can accomplish with hard work." 
This story can also be found in the Spring 2021 edition of Tri-C Times.
March 30, 2021
Erik Cassano, 216-987-3577 erik.cassano@tri-c.edu