Grant from Cleveland Foundation Expands Tri-C Arts Programs in Cleveland
College receives $200,000 for Vocal Arts Mastery program and Dance Mastery gala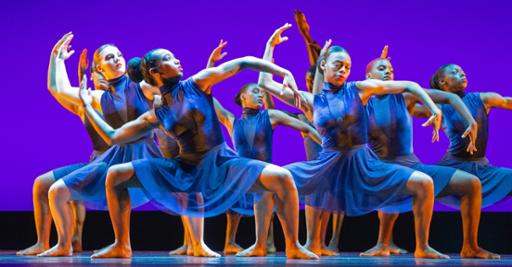 The Cleveland Foundation has awarded a $200,000 grant to Cuyahoga Community College (Tri-C®) to expand access to arts mastery education programs in the community.
The recently announced grant builds on previous support for Tri-C's Dance Mastery and Vocal Arts Mastery programs for the city's youth. It also funds a dance gala — Soar — that brings more than 100 students onto the stage at Playhouse Square.
Soar will take place at 7:30 p.m. Friday, June 5, at the Connor Palace. Tickets are $15 and can be purchased at playhousesquare.org. Last year's show sold out.
"The generous support from the Cleveland Foundation allows our city's youth to unlock the talent within themselves," said Emanuela Friscioni, director of Tri-C's Creative Arts Academy. "The confidence built through these programs often makes this a life-changing experience."
The Arts Mastery initiative was developed to give Cleveland children access to high-quality arts programs in their neighborhoods. The Cleveland Foundation partners with organizations to deliver year-round, mastery-level arts training that allows youth to develop qualities they need in adulthood.
This year, more than 3,000 young people will have access to rigorous, high-quality arts mastery programming in 18 Cleveland neighborhoods. Programming offered through partners such as Tri-C includes classical music, theater, dance, spoken word, photography and museum curation.
The Dance Mastery program at Tri-C flourished after the Cleveland Foundation awarded the College a 2017 grant to support an expansion into Cleveland neighborhoods. The program is offered at the College's Metropolitan Campus and eight Cleveland neighborhood locations.
The College's Vocal Arts Mastery program builds off the success of its Dance Mastery program. The Cleveland Foundation awarded Tri-C a grant last year to broaden the program in partnership with Cleveland Public Library. It is offered at two library sites on the city's east and west sides.
The grants have been awarded to Tri-C through the Cuyahoga Community College Foundation.
"We are happy to support expanded access to Tri-C's Dance and Vocal Arts Mastery programs because we believe all young people deserve a place to nurture their interests and develop their talents," said Courtenay A. Barton, arts and culture program manager at the Cleveland Foundation.
Visit www.tri-c.edu/creative-arts-academy or call 216-987-6145 for more information on Tri-C's Dance Mastery and Vocal Arts Mastery programs.
February 21, 2020
John Horton, 216-987-4281 john.horton@tri-c.edu