Going Green
Tai-Renee King will use skills learned at Tri-C to champion sustainability in Cleveland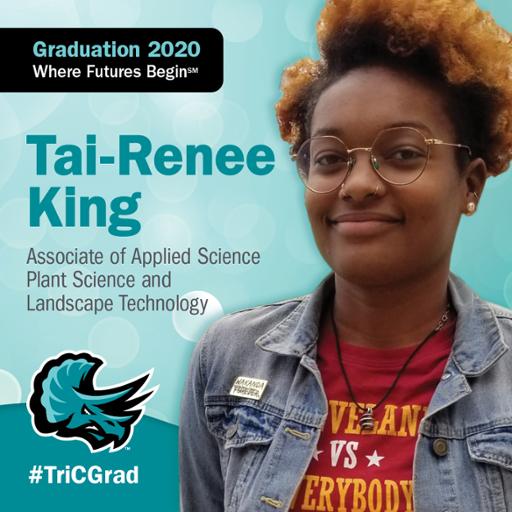 Tai-Renee King enrolled at Cuyahoga Community College (Tri-C®) in 2017 to complete prerequisites toward a library science degree. Three years later, she's graduating from the College with an Associate of Applied Science in Plant Science and Landscaping Technology and a certificate in landscape contracting.
What changed?
"I was always interested in environmental issues, but I never thought to make a career out of it," said King, 28, of Cleveland. "My supervisor at the Cleveland Public Library realized I had a passion for nature, so she pushed me toward plant science."
Growing up in the city's Mt. Pleasant neighborhood, King didn't have access to much green space. It's an older area, densely packed with homes built before the advent of renewable energy and dotted with vacant lots.
King looks at the landscape and believes it could someday spring back to life as urban gardens with the right kind of care.
"I'd like to transform my childhood community into a self-sustaining, eco-friendly neighborhood with green homes and buildings," she said. "I'd also like to teach people how to grow plants for food as well as for beauty."
King knows firsthand how intimidating it can be to try something new. Starting college at 25 years old, she feared she wasn't "smart enough" to keep up with her classmates. As it turns out, she had no need to worry.
In 2018, she was one of five community college students in the nation to receive a scholarship from plant company Proven Winners. In April, she became the third student from Tri-C's award-winning horticulture program to receive an Irrigation Association scholarship.
King will apply this latest award toward tuition at Oregon State University, where she'll study ecological engineering and forestry beginning this fall.
"It's my dream college," she said. "They have the No. 3 forestry program in the world."
King is excited for the next phase of her life and thankful to Tri-C for helping her get there.
"My professors' immense knowledge and their passion for the environment inspired me to learn as much as possible and bring it all back to my community," she said. "Tri-C helped me find my calling."
Cuyahoga Community College will celebrate the academic achievements of approximately 2,500 graduates on May 14 during a virtual ceremony. Check our News and Events page in the days leading up to the online event as we highlight members of the Class of 2020.
May 08, 2020
Beth Cieslik, 216-987-4538 beth.cieslik@tri-c.edu