GM Scholarship at Tri-C Offers Students Debt-Free Path to Auto Tech Jobs
Program covering full tuition and fees to begin in the fall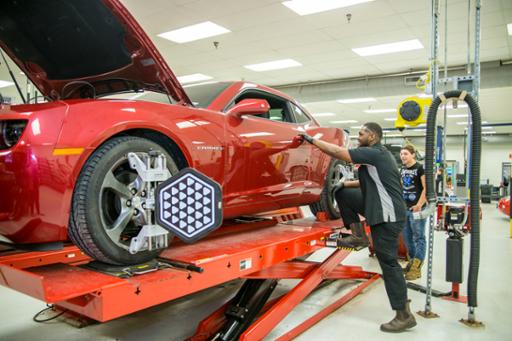 General Motors Co. is partnering with Cuyahoga Community College (Tri-C®) to launch the GM Dealer Technician Scholarship, a program that can help students graduate debt-free with a two-year associate degree in automotive technology.
Tri-C is one of seven community colleges in Michigan, Ohio and Pennsylvania teaming with GM on the program, which will begin this fall. Eighty students will be eligible for scholarships covering full tuition and fees.
Their coursework and paid co-op experience will expose them to many of GM's industry-leading technologies, including battery-electric vehicles, semi-autonomous driver assistance systems like Cadillac Super Cruise, built-in Wi-Fi connectivity and more.
"We're tearing down the barriers that stand in the way of people pursuing these good-paying, high-tech jobs," said Terrence Rhadigan, executive director of GM Corporate Giving. "After two years, we want people to hit the ground running, so we will help them get a quality education, technical training and hands-on experience without the burden of student loans."
The scholarship program includes co-op learning experiences at Chevrolet, Buick, GMC and Cadillac dealerships, where students will work hand-in-hand with experienced technicians to maintain and repair today's high-tech vehicles.
The end goal: full-time employment at one of more than 4,000 GM dealerships around the country.
GM dealers consistently rate at the top of J.D. Power's annual Customer Service Index study, which measures customer satisfaction with service.
"The service lane is a competitive advantage for GM and our dealers, and we want to keep it that way with the best new talent we can find," Rhadigan added.
The GM Dealer Technician Scholarship will also help the company address the growing demand for highly trained automotive service technicians. The U.S. Bureau of Labor Statistics estimates that the industry will need 46,000 more technicians by 2026.
Tri-C's Automotive Technology program has reported growth in enrollment, graduation and job placement rates the past several years. Graduates earn an Associate of Applied Science degree.
Given demand for the program, the College is expanding its Advanced Automotive Technology Center at Western Campus to add work space and more opportunity for hands-on training. The center is home to a GM Automotive Service Educational Program (GM ASEP).
Visit www.tri-c.edu/AutoTech for more information on the College's program.
June 14, 2019
John Horton, 216-987-4281 john.horton@tri-c.edu