Glowing Praise for Tri-C's Metro Campus Center
The Plain Dealer calls renovation one of city's top 2019 architectural projects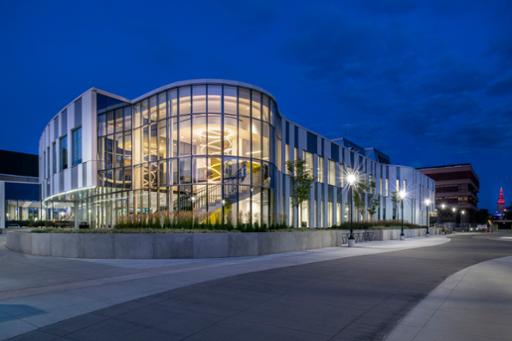 One of 2019's architectural bright spots in Cleveland glows from the Metropolitan Campus of Cuyahoga Community College (Tri-C®), according to The Plain Dealer's Steven Litt.
The Metro Campus Center makeover earned praise in the reporter's annual review of architecture and planning in the city. It stood out as one of the few highlights in what Litt called a "sour" year for design excellence.
The revamped building stands along East 30th Street, just south of Community College Avenue. It now serves as the heart of Tri-C's downtown campus, bringing new energy to an academic setting more than a half-century old.
The welcoming building houses a food court; a Barnes & Noble bookstore; student government offices; classroom space for High Tech Academy and other college prep programs; and a conference hall for events and meetings.
The renovation expanded Metro Campus Center from roughly 70,000 square feet to 106,000 square feet through better utilization of the 2-acre site. The College collaborated with Bialosky Cleveland on the project.
In November, the building received a pair of 2019 Design Awards from the Cleveland chapter of the American Institute of Architects — one for the overall structure and another for an illuminated stainless steel sculpture dubbed the "Light Tornado."
Earlier in the fall, Metro Campus Center received LEED® Gold certification from the U.S. Green Building Council. The building opened at the start of 2019.
January 08, 2020
John Horton, 216-987-4281 john.horton@tri-c.edu