Behind The Scenes: Amanda Fronek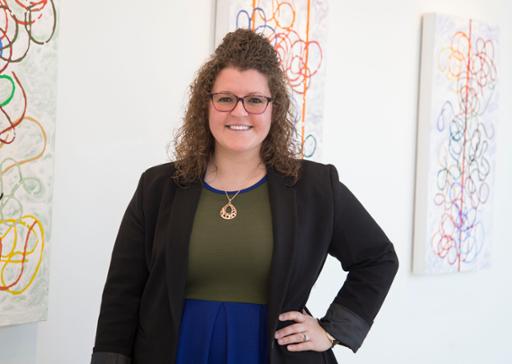 Amanda Fronek is director of student engagement at Westshore Campus. She lives in North Ridgeville with her husband, Eric, and her dog, Mo. This "Behind The Scenes" story appeared in the Spring 2018 edition of Tri-C Times.
Tri-C Times: When did you take this position with Tri-C, and what did you do before coming to the College? 
Amanda Fronek: I began at Tri-C on March 13, 2017, during a very quiet spring break week at Westshore Campus. It made for a nice adjustment period, as I had a week to get used to my new surroundings before students returned. 
Prior to coming to Tri-C, I was director of student life and support services at Ivy Tech Community College's Bloomington Campus in Bloomington, Indiana. I oversaw a comprehensive student development office that included student life, disability support services, retention and alumni outreach. 
TCT: How would you describe your role with the College?
AF: As the director of student engagement at Westshore Campus, I work with our wonderful team to provide an engaging atmosphere that promotes and values cocurricular experiences as part of the foundation of learning.
I provide students with opportunities to engage with others at the College, work with faculty to create programs and events that directly link classroom learning to real-world experiences and develop activities that teach students the skills required to thrive as individuals within their communities. My work is retention- and success-focused, and I try to ensure students see the value in utilizing their limited time to get involved at the College.
TCT: What do you like most about your work?
AF: I am currently applying for a doctoral program and have been thinking about this a lot. I am trying to figure out what path my career may take and what work I enjoy doing most. I find this question extremely hard to answer, as I enjoy multiple parts of my work — but student success is at the root of everything I enjoy most. Whether I help a student achieve their goal of becoming a student government officer or suggest a change to College processes that directly affects student success, it's all good stuff. 
TCT: What are you most looking forward to in 2018?
AF: Approaching my one-year anniversary with the College, I am excited to start homing in on what works for student engagement at Westshore and how I can lead student engagement in a positive direction College-wide.
Additionally, I am excited to be participating in the inaugural Leadership Integration for Tomorrow (LIFT) program cohort at Tri-C and look forward to meeting influential leaders at the College and in higher education in general.
Lastly, I am thrilled to complete my application and hopefully begin Kent State University's doctoral program in higher education administration this summer. My mom is currently a student at the Western Campus, and I am excited to be able to share the experience of working while going to school — something she has been doing for years!
TCT: What do you like to do in your free time?
AF: I enjoy spending time with my husband, Eric, and my dog, Mo. We all enjoy time in the Metroparks and on the walking paths in our neighborhood, both running and playing Pokémon Go (I know, I know). Recently, most of my time has been spent decorating our first home, which we moved into a few days before Christmas. I have also enjoyed spending additional time with family after living out of state for many years.
April 17, 2018
Jarrod Zickefoose, 216-987-4750 jarrod.zickefoose@tri-c.edu