Future Leaders Dreaming Forward: CSU, Tri-C Students Honor Dr. King
Five student presentations highlight virtual commemoration set for Jan. 19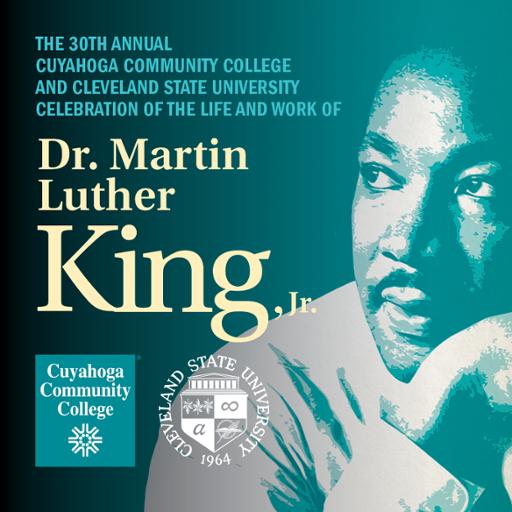 Students from Cleveland State University and Cuyahoga Community College (Tri-C®) will honor Dr. Martin Luther King Jr. during the "Future Leaders Dreaming Forward" event on Tuesday, Jan. 19.
The commemoration begins at 8:30 a.m. and can be viewed at tri-c.edu/dreamingforward. This is the 30th year the institutions have partnered to celebrate Dr. King's vision and encourage students to actualize their own dreams. 
Opening remarks will be delivered by CSU President Harlan Sands and Tri-C President Alex Johnson. Danielle Sydnor, president and CEO of the Cleveland chapter of the National Association for the Advancement of Colored People (NAACP), will serve as emcee. 
Five students from CSU and Tri-C will present their perspective on the following statement inspired by a 1965 King sermon following attacks on protestors in Selma, Alabama: "Our lives begin to end the day we become silent about things that matter."  
Student speakers include:
Andres Portocarrero Bonifaz, a CSU graduate student studying medical physics. Originally from Peru, he is a member of the Peruvian Society of Radiological Protection, a student member of the American Association of Physicists in Medicine and an associate member of Medical Physics for World Benefit. He also conducts research projects at the Cleveland Clinic under the supervision of his advisor. He is passionate about serving others and wants to make an impact on the world in medical science
Kenzie Brown, who is working toward an Associate of Arts degree at Tri-C while studying in the College's Jack, Joseph and Morton Mandel Scholars Academy. After graduation, she intends to pursue a bachelor's degree while building toward a career in which she can make a difference in people's lives through her art and writing.
Charese Harrison, who has distinguished herself as a Tri-C Democracy Fellow, where she and others in the group have gained national recognition for their civic engagement efforts. The Mandel Scholar is pursuing dual majors in recording arts and liberal arts and is an active community advocate and volunteer. Her goal is to pursue music as a career and use her platform to help others.
San Ly, a senior honors student studying marketing and international business at CSU. Originally from Vietnam, she began her academic endeavors at Tri-C. She serves on CSU's Student Government Association as a senator for the College of Business and is vice president of fundraising for the CSU Chapter of the American Association of Marketing.
Steve Primeau, who is studying in Tri-C's Plant Science and Landscape Technology program and stands as a proud member of the Mandel Scholars Academy. He hopes to use his Tri-C education to build and enrich parks and reservations that beautify communities for generations to come. He would also like to continue developing his writing skills to better share his personal experiences and advocate for the mentally ill.
January 15, 2021
John Horton, 216-987-4281 john.horton@tri-c.edu