From Municipal Court to Commencement
Advice from judge pushed Antonio Dobyne to earn his high school equivalency diploma at Tri-C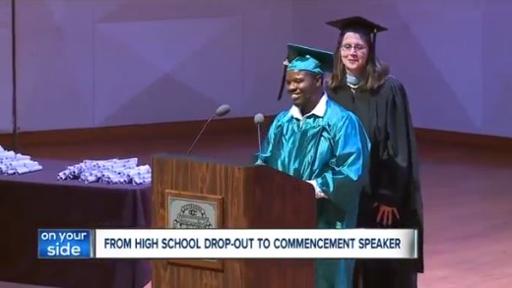 On Thursday, Antonio Dobyne once again found himself standing in front of Cleveland Municipal Court Judge Emanuella Groves.
The circumstances, however, couldn't have been more different.
Dobyne spoke to Groves as he stood at the podium during the Ohio's Options Adult Diploma Program and High School Equivalency Commencement at Cuyahoga Community College (Tri-C®). He wanted to thank her for trusting him to change his future.
Five years ago, when Dobyne appeared in Municipal Court on a misdemeanor charge, Groves advised him to pursue the high school diploma he lacked.
Dobyne invited the judge to Thursday's commencement, where he served as student speaker.
"I just wanted her to know that I listened to what she was telling me, and I didn't go out here and do anything crazy and stayed on the right path," Dobyne told WEWS Channel 5, which covered the ceremony.
Groves said she was thrilled to see Dobyne followed her advice and challenged himself to do better.
"Easily I could have given him a fine and sent him on his way, and who knows where he would be, and so now we know that the trajectory of his life has changed tremendously," Groves told Channel 5.
Dobyne — who is legally blind due to a genetic eye disease — said he now plans to pursue an associate degree in small business management at Tri-C. After that, he wants to transfer to Cleveland State University to work toward a bachelor's degree.
June 14, 2019
John Horton, 216-987-4281 john.horton@tri-c.edu