French Dance Company Cie Hervé Koubi Makes Ohio Debut with Tri-C
Tickets on sale now for Feb. 15 performance at Mimi Ohio Theatre at Playhouse Square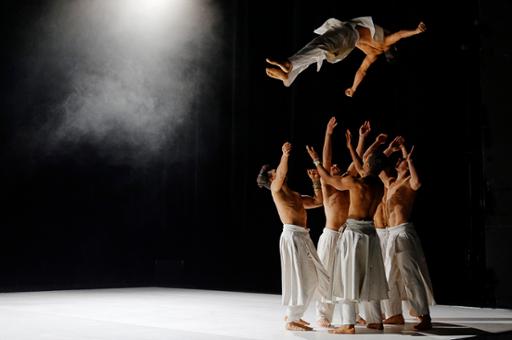 Experience acrobatic flips, stunning spins and elusive creativity as the all-male French dance company Cie Hervé Koubi makes its Ohio debut in a performance co-presented by Cuyahoga Community College (Tri-C®) and DANCECleveland.
The premiere is set for 7:30 p.m. Saturday, Feb. 15, in Cleveland at the Mimi Ohio Theatre at Playhouse Square. The program — which comes during the dance company's U.S. tour — is part of the Tri-C Performing Arts season.
Cie Hervé Koubi made its U.S. debut in 2015 at New York City Center's Fall for Dance Festival. The standing ovation that ended that show followed the dance company as it performed at sold-out venues across the nation over the past few years.
In Cleveland, the company will perform What the Day Owes to the Night — a piece created by company director and choreographer Hervé Koubi. It was inspired by his father's deathbed revelation that Koubi's family originated in Algeria rather than France (as Koubi had believed).
The piece explores Koubi's newfound roots and depicts a journey home. The performance combines capoeira, martial arts, hip-hop and contemporary dance with the movement and visual depictions of the Eastern world by European artists and Islamic architecture. 
Tickets range from $25 to $50 and can be purchased at www.playhousesquare.org or by calling 216-241-6000. The show includes moderated pre- and post-show talks with performers and producers. (The pre-show chat begins at 6:45 p.m.)
This engagement is supported by the Arts Midwest Touring Fund, a program of Arts Midwest funded by the National Endowment for the Arts, with additional contributions from the Ohio Arts Council and Crane Group.
While in Cleveland, Cie Hervé Koubi will also take part in a free advanced-level master class for dancers age 16 and older. The class begins at 10 a.m. Saturday, Feb. 15, at Cleveland State University's Middough Building. Registration is required at www.dancecleveland.org.
Tri-C's 2019-2020 Performing Arts season features 10 productions showcasing classical piano, jazz and dance. It is designed to bring world-class artistic experiences to the Greater Cleveland community. Visit www.tri-c.edu/performingarts for more information.
To learn more about DANCECleveland, visit www.dancecleveland.org.
January 08, 2020
John Horton, 216-987-4281 john.horton@tri-c.edu