Frank Jackson Honored With Courtyard Naming, Scholarship
Outgoing Cleveland mayor a Tri-C graduate and longtime supporter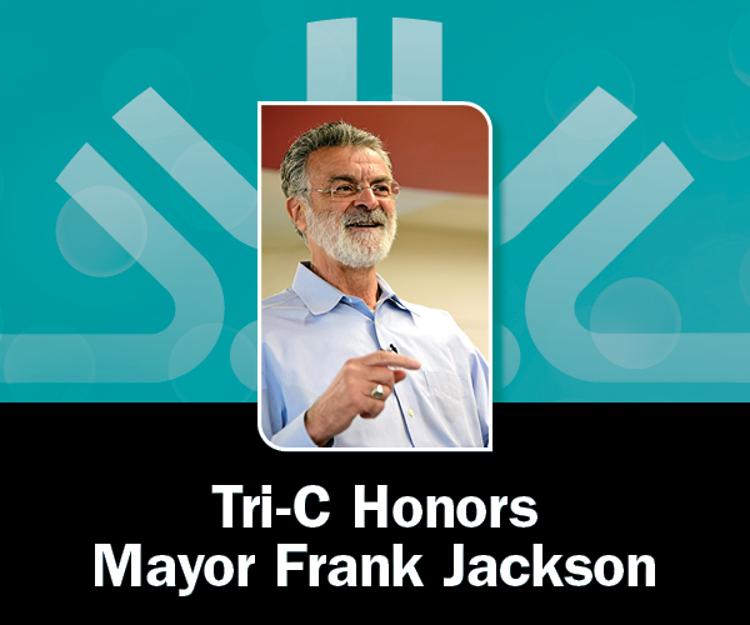 Throughout his career, Cleveland Mayor Frank G. Jackson has been a proud supporter of Cuyahoga Community College (Tri-C®). As Jackson prepares to step down after 16 years as mayor, Tri-C is showing its appreciation for his many years of support with a courtyard dedication and new scholarship fund.

Jackson, who earned his first degree at Tri-C, has championed many initiatives involving the College, including Cleveland Promise, which provided Cleveland Metropolitan School District students with tuition support at Tri-C; and the Community Benefits Agreement, an arrangement between the city and local contractors that provided work opportunities for Cleveland residents trained by Tri-C programs.

"Frank Jackson has been one of Tri-C's most influential supporters throughout his long and illustrious career," said Tri-C President Alex Johnson. "As he prepares to leave office, we look forward to honoring him by acknowledging his accomplishments and how much he has meant to Tri-C and Greater Cleveland."

Next month, the College will rename its Metropolitan Campus courtyard in honor of Jackson. The Frank G. Jackson Courtyard will serve as the centerpiece of the campus — a place for students, faculty and staff to meet, socialize, hold events, exchange ideas and express themselves. A plaque honoring Jackson's achievements will be installed near one of the courtyard's entrances.

The Metro Campus courtyard and Campus Center underwent an extensive construction and renovation project several years ago, completed with the use of state, local and institutional funds.

In addition, the College will establish The Honorable Frank G. Jackson Committed to Cleveland Scholarship Fund.

The fund recognizes Jackson's contributions to Greater Cleveland and his dedication to building equity and opportunities for Clevelanders. It will provide scholarship money to advance the education of Cleveland residents enrolled in workforce programs.

For more information on the scholarship fund, visit tri-c.edu/committedtocleveland.
November 08, 2021
Erik Cassano, 216-987-3577 or erik.cassano@tri-c.edu