Fox 8's Wayne Dawson Built His Career From a Tri-C Experience
Cleveland TV news fixture calls the College "a jewel in this community"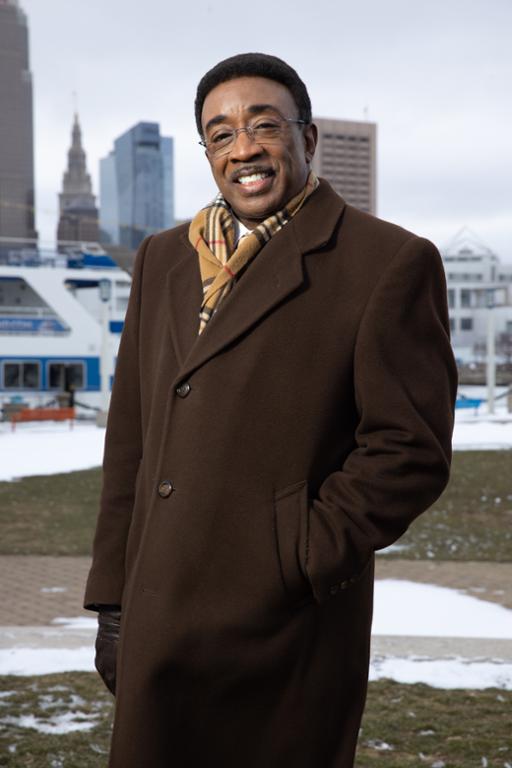 Cleveland is Wayne Dawson's world. 
For 42 years — all at WJW Fox 8 — Dawson has covered events that have shaped our lives and dictated our region's future. His career has spanned five Cleveland mayors, eight Ohio governors and eight U.S. Presidents. 
Dawson was there for the highest of highs, perched above the Cavaliers' championship parade in 2016, and the lowest of lows, reporting on the Browns' move to Baltimore in 1995. He's interviewed national newsmakers in politics, sports, business and countless other fields. 
Since 1999, Dawson has occupied one of the most visible anchor chairs in Cleveland as co-host of the Fox 8 Morning Show — the only local news and lifestyle program to compete with national programs on other networks in the 7-9 a.m. weekday time slot. 
He is one of Cleveland's most accomplished and recognizable broadcasters. But at his roots, Dawson is just a kid from East Cleveland who discovered a love of journalism at a young age. 
"When I was in school, I knew I had an interest in journalism, but I was kind of an underachiever in the classroom who hadn't yet learned how to apply himself," he said. "So when I graduated from Shaw High School in 1974, I wasn't ready to go to a four-year school." 
It's why Dawson enrolled at Cuyahoga Community College (Tri-C®) that fall. What he learned in his 18 months at the Metropolitan Campus would pave the way for his future success. 
Looking Back
When Dawson arrived at Tri-C, he knew he liked sports and wanted to be a journalist. He found an outlet for both interests while writing for the two Metro Campus student newspapers that existed at the time. 
"That was my first experience with journalism," he said. "I'd go to games and meets, talk to the players and coaches and start writing stories. Didn't matter if it was baseball, basketball, track or anything else. I wanted to cover it." 
Writing for the student newspapers gave Dawson his first taste of reporting, but it was in the classroom that he learned how to set goals and achieve them. 
"It was through the support of the instructors that I really became serious about my education," he said. "I grew up at Tri-C and really started thinking about my future." 
Dawson's grades improved. Combined with the clip file he amassed while writing for the student newspapers, he was ready to transfer to Kent State University by the end of 1975 to become a sportswriter. 
But when he got to Kent, there were no reporter openings at their student newspaper. This sent him in a new direction. 
"When I arrived, it was the start of winter quarter and their staff was already full," Dawson said. "I wanted to do some kind of student media, so something inside me wondered if the college radio station had openings. Sure enough, they did. And that's how I made the leap to broadcasting." 
Soon after, Dawson began working for Kent's student television station and fell in love with TV broadcasting. He worked for the student TV station for three years. 
Turning Pro
After graduating from Kent in 1979, Dawson achieved a rare feat by going straight from college to a major station in a large media market. 
"They had a reporter training program at Channel 8 at that time," Dawson said. "I learned early on how important it was to make contacts in the industry, so I sent my tapes to Virgil Dominic, who was the general manager at Channel 8 for years. He liked my tapes, so he called me in, and I ended up in the training program." 
At the time, Cleveland was the country's eighth-largest media market. 
"It was big to get that kind of job right out of the gate," he said. "I did graphics during the week and went out on assignments with reporters on the weekends. They'd supervise me as I did the story, and the story would go on the air. That was my first professional job." 
It was Dominic who encouraged Dawson to broaden his subject matter as a reporter, advising him to switch from sports to news. 
"He said I'd have a longer career in news," Dawson said. "I'd say he was right." 
In addition to the Cavs championship and Browns departure, he has covered other stories of local and national importance, including several Republican National Conventions, Barack Obama's first inauguration and the 1998 Space Shuttle Discovery mission in which John Glenn became the oldest person to fly in space. 
Prior to joining the Fox 8 Morning Show, Dawson anchored the weekend morning and evening newscasts for the station, sitting across the desk from notable co-anchors including Kelly O'Donnell, now of NBC News, and Robin Meade, now of HLN. 
Along the way, Dawson has won 11 Emmys and numerous other awards. He is also active in the community outside of his day job, working as a pastor at Grace Tabernacle Baptist Church in Lyndhurst and helping to oversee the Annie L. Dawson Foundation — named after his mother — which assists inner-city kids with scholarships, food and winter clothing. He established the foundation along with his brother, William, who is presiding judge at the East Cleveland Municipal Court. 
Dawson has impacted the Northeast Ohio community in many ways, both on- and off-camera, but he always remembers that Tri-C is where he started. An enthusiastic supporter of the College for many years, he now watches as family members follow in his footsteps. 
"I have a daughter and two granddaughters enrolled there right now, all in nursing," he said. "I think it's fantastic that all of them are getting their starts at Tri-C just like I did. Tri-C really is a jewel in this community. You can go there, get a great education, save money, then go on to a four-year school or right into the workforce. 
"The slogan says it's where futures begin, and it really is true. I can attest to that."
This story can also be found in the Spring 2021 edition of Tri-C Times.
March 24, 2021
Erik Cassano, 216-987-3577 erik.cassano@tri-c.edu