Former Tri-C Student Leads Super Bowl Flyover
U.S. Air Force Capt. Sarah Kociuba attended Tri-C before making history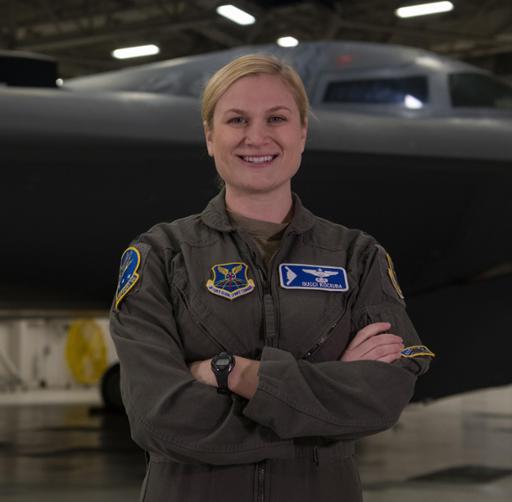 The pilot leading last weekend's Super Bowl bomber flyover began her career ascent at Cuyahoga Community College (Tri-C®). 
U.S. Air Force Capt. Sarah Kociuba attended Tri-C full time during her senior year at North Royalton High School. She later transferred to the University of Dayton, where she took classes through the Air Force ROTC program and graduated in 2012. 
On Sunday, as the last note of the national anthem reverberated through Raymond James Stadium in Tampa, Kociuba flew a B-2 stealth bomber over the field to cap the opening ceremonies. 
Kociuba is one of just 10 female B-2 pilots in the country and the first female pilot to lead a Super Bowl flyover. She has flown more than 90 combat missions and has more than 1,700 flying hours. 
Before all of that, though, she was a student in the Post-Secondary Enrollment Options Program at Tri-C. Kociuba posted a flawless 4.0 GPA at the College during the Fall 2008 and Spring 2009 semesters. 
She also ran for Tri-C's cross country team and earned Academic All-American honors while helping the College to an 13th-place finish at the national championship. 
Kociuba is an Air Force B-2 instructor pilot and wing scheduler currently stationed in Missouri. She has served more than nine years of active duty in various positions and been awarded the Air Force Commendation Medal and an Air Medal with one oak leaf cluster. 
Her mother, Beth, works at Tri-C as an office assistant in the Upward Bound Math and Science program.
February 11, 2021
John Horton, 216-987-4281 john.horton@tri-c.edu