Former College Credit Plus Students Eligible for Reduced Tuition at Tri-C
College offers a 10% tuition waiver beginning with spring semester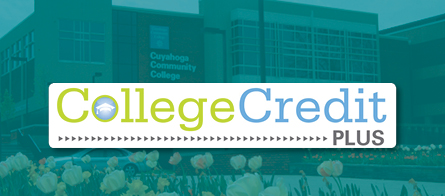 High school graduates who attended Cuyahoga Community College (Tri-C®) through College Credit Plus can receive up to a 10% tuition waiver if they continue their studies at Tri-C.
The College adopted the discount to increase access to higher education. For a full-time student taking 15 credit hours, the rollback would save $171.75.
Tri-C already offers the lowest tuition in the state at $114.54 per credit hour.
The waiver aligns with recommendations from the Ohio Task Force on Affordability and Efficiency in Higher Education to help students achieve college degrees while accumulating less debt.
The 10% discount will be provided as a rebate following successful completion of courses with a grade of C or better. Students are eligible for the program if they enroll at Tri-C within the first three semesters following their high school graduation.
The College expects approximately 1,000 students to benefit from the waiver over the next two years. Nearly 3,700 students enrolled at Tri-C through College Credit Plus during the current fall semester.
College Credit Plus is a dual enrollment system that allows teens to earn college credits while meeting high school graduation requirements. Ohio debuted the program in 2015 to improve educational attainment and career readiness for young citizens.
Visit www.tri-c.edu/tuitionrewards or call 216-987-6000 for more information or to enroll in the tuition waiver programs.
December 02, 2019
John Horton, 216-987-4281 john.horton@tri-c.edu