Finishing on a High Note
A passion for music led Jamie Vitullo to a degree from Tri-C's RAT program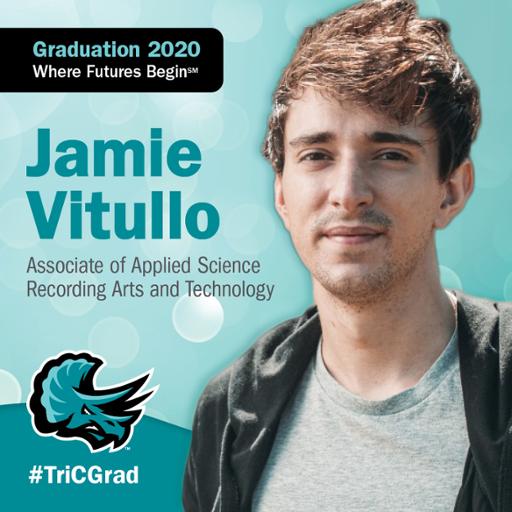 Music has been a part of Jamie Vitullo's life since grade school. The Youngstown-area native has been drumming since he was nine and playing in bands since high school. 
But it wasn't until he entered the Recording Arts and Technology (RAT) program at Cuyahoga Community College (Tri-C®) that he started to seriously consider a music-related career. 
"My brother was in the RAT program about four or five years before me," Vitullo said. "So when I was still in high school, thinking about my options after graduation, my parents brought up the idea of attending the same program. After looking into it, I thought it was a good fit." 
Now a 22-year-old Parma resident, Vitullo will graduate from Tri-C with an Associate of Applied Science degree in Recording Arts and Technology this month. 
Vitullo is an accomplished performer who has played with artists in a variety of genres, including hip-hop, electronic, indie rock and metal. His main project is drumming for Spirit of the Bear, a band he has been playing with for seven years, at gigs from Minnesota to eastern Pennsylvania. 
But when he started to look at a career in the music industry, he wanted a specialization apart from performing. Tri-C's RAT program opened his eyes to different career possibilities. He soon gravitated toward audio engineering. 
"Audio is something I didn't know a lot about and wanted to get a better handle on," Vitullo said. "I knew a lot of people who worked in audio, and as I explored it, I started to see that quite a lot can be done in audio." 
Originally, Vitullo thought about working as a sound technician for live events. But he quickly developed an interest in mastering. 
"Through Tri-C and the industry, I've been hooked up with people who have taught me a lot about mastering music and making it radio-ready," he said. "The RAT program really helped lay the framework for me to pursue that as a career." 
Vitullo said the experienced instructors at Tri-C make it a great place to build a foundation for a recording arts career. 
"In addition to the technical aspects, they teach you about the business aspects of music — something I hadn't really thought about before," he said. "They have a lot of diverse experience in the industry. And you end up connecting with so many great people, both teachers and fellow students." 
After graduating from Tri-C, Vitullo plans to seek work in the audio field. He is also considering transferring to a four-year school to pursue a bachelor's degree. 
"The RAT program showed me the options I have available to me," he said. "You go in thinking one thing, and they lift the veil and show you there's quite a lot more." 
Cuyahoga Community College will celebrate the academic achievements of its newest graduates during a Dec. 17 virtual commencement ceremony. Check our News and Events page leading up to the online event as we highlight members of the Class of 2020.
December 08, 2020
Erik Cassano, 216-987-3577 erik.cassano@tri-c.edu