Finding the Right Note
Following his heart led Dominic Capretta to Tri-C's Recording Arts and Technology program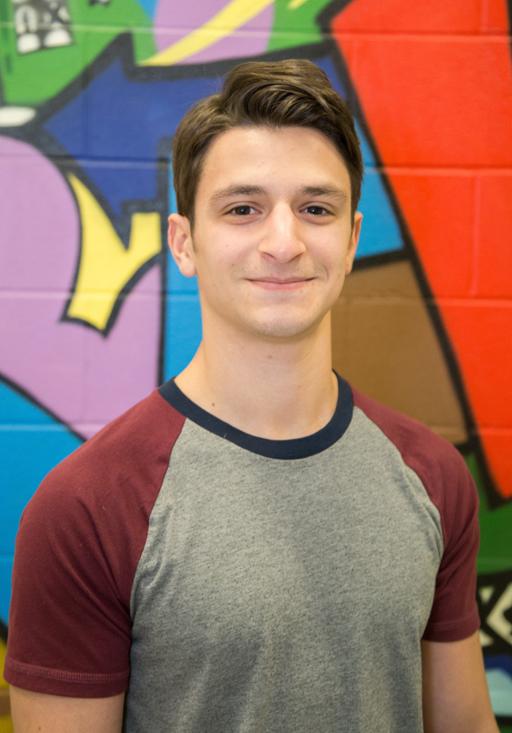 Dominic Capretta thought he had everything figured out after graduating from Mayfield High School. He enrolled at Cleveland State University and began studying computer engineering, a subject in which he excelled.
After his freshman year, he was awarded a full-tuition scholarship. It all seemed perfect.
But Capretta knew something wasn't right: "I had so much going for me, but I wasn't happy," he said. "The fact that nothing had clicked for me after a year didn't feel right."
So he decided to leave CSU and that big scholarship and turn toward music. Capretta had learned to play guitar his junior year in high school and felt pulled toward a career in audio. It wasn't easy breaking the news to his parents.
"My parents weren't happy because I was giving up a lot academically at CSU," Capretta said. "I needed to prove to them and to myself that this is what I wanted to do. I'm happy I did."
Later this month, the 21-year-old will graduate from Cuyahoga Community College (Tri-C®) with an Associate of Applied Science degree with a focus in Recording Arts and Technology. A full-time job installing home theaters awaits.
When he thinks about his experience changing majors and schools, he encourages others in a similar position to take action.
"Go with what your gut is saying," he said. "If you make a change, things will work out."
An internet search led Capretta to Tri-C and its Recording Arts and Technology program. He saw that the College offered tours of its world-class recording control rooms and music technology classrooms, so one day he showed up.
He said his visit with David Kennedy, who manages the recording arts program, sealed the deal to take classes at Tri-C's Gill and Tommy LiPuma Center for Creative Arts at Metropolitan Campus.
"I knew right away I was going to go there," said Capretta, who lives in Mayfield Heights.
Courses on audio and electronics led to an internship with Summit Sound & Security in Twinsburg. Capretta credits field experience instructor Brian Boyd with giving him the confidence to land the position.
The internship experience certainly paid off, as the company offered Capretta a full-time job.
"I most definitely thought I'd be doing something else than what I am now," he said. "Tri-C has changed my life in a positive way. I'm a much happier person now, and I can finally be myself."
Cuyahoga Community College will celebrate the academic achievements of thousands of students on May 16 at Spring Commencement. Check our News and Events page in the days leading up to the ceremony as we highlight members of the Class of 2019.
May 06, 2019
Madeline Shepherd, 216-987-4616 madeline.shepherd@tri-c.edu