Finding Art in the Shadows
Tri-C student April Graham claims national award with masterful use of light, dark tones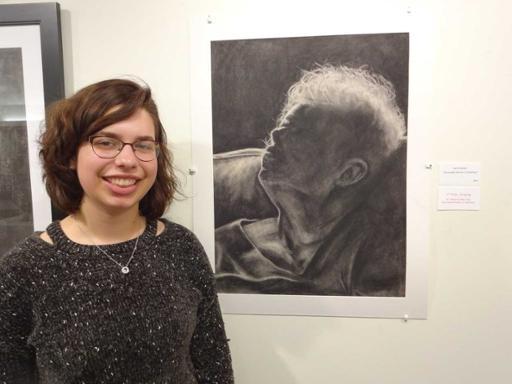 The lights dimmed in the Cuyahoga Community College (Tri-C®) studio and a sense of serenity filled art student April Graham. She gazed at her subject — a sleeping woman — and began sketching.
The charcoal-on-paper drawing from that spring session recently earned a national honor.
Graham's work "Light on a Woman in Darkness" claimed a juror's choice award in the 2017-2018 League for Innovation in the Community College Student Art Competition. It was one of six works recognized from across the nation.
The 18-year-old created the drawing during a Portrait Drawing and Painting class at Tri-C's Western Campus. She utilized a technique known as chiaroscuro, which balances extreme light and shadow with dramatic effect.
Graham said the assignment captivated her: "I remember being totally engrossed in what I was doing," she said.
Her professor, Sharlene Green, said the drawing was exemplary in structure and composition. It was selected for the national competition out of more than 20 works submitted by Western Campus students.
The 32nd annual competition by the League for Innovation showcases the best work by community college students from across North America.
"There is a deep feeling, a mood, emitted from April's piece that instantly grabs your attention," Green said.
Graham, a home-schooled student from Seven Hills, enrolled at Tri-C last year through the College Credit Plus program. She'll continue her studies this fall as part of the Cleveland Humanities Collaborative between the College and Case Western Reserve University.
She intends to earn an associate degree at Tri-C before transferring to Case to work toward a bachelor's degree in the humanities. Her long-term goal is to earn a master's degree in library science from Kent State University.
Graham said she also plans to continue pursuing her passion for art, which she called an outlet for her creativity. She said drawing has been a part of her life since she was old enough to clutch a pencil.
"To me, art is extremely personal," Graham said. "I do it because I love it."
July 24, 2018
John Horton, 216-987-4281 john.horton@tri-c.edu