Finding a Career, Fulfilling a Dream
At 29, Mario Anderson Jr. is realizing his potential with a degree from Tri-C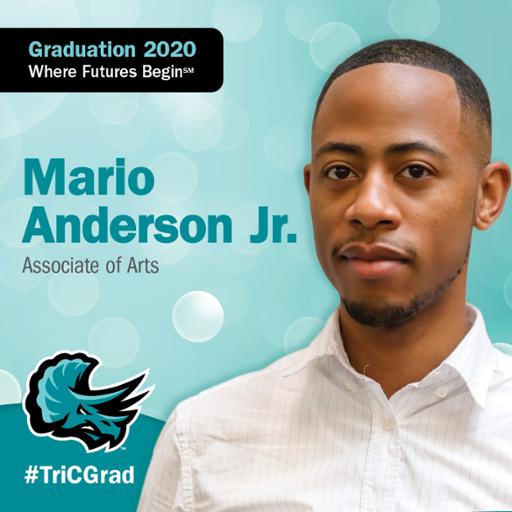 Good things come to those who wait. Good things also come to those who are willing to put in the work. 
Mario Anderson Jr. is proof of both. The 29-year-old Cleveland resident has faced a number of twists and turns on his path to an associate degree in media and journalism studies from Cuyahoga Community College (Tri-C®), which he will earn this month. However, he has stayed the course and is now one step closer to his dream of a career in broadcast journalism. 
In the six years prior to enrolling at Tri-C in 2018, Anderson embarked on a journey of self-discovery that took him from Bowling Green State University to Florida, back to Ohio, and to the creation of his own music management business. 
Each stop offered him something, in the form of a line on his resume or valuable life experience. But he still sought a more defined direction. 
"I knew I had a good personality," Anderson said. "I knew I could be on TV, that I could be myself in front of a camera. I already had done a radio show in the time I was at BG, so I knew I could be in front of a microphone."
But it took enrolling at Tri-C to really bring his future into focus. Once Anderson began taking media and journalism studies classes, he discovered a career path. He also found new ways to challenge himself. 
"Even in broadcast, writing is a big part of the job, so I wanted to work at improving my writing," Anderson said. "I had English professors who helped me, I joined the staff of The Voice, and I even got some real-world experience by writing press releases as an independent artist manager." 
At Tri-C, Anderson found a sense of purpose. He became a strong student, earning an LGBTQ+ scholarship and a Media and Journalism Studies scholarship. 
He has also been involved in campus organizations throughout his time at the College. 
"I was a part of Lambda GSA, because I always want to advocate for my community," he said. "We tried to revive Lambda GSA at the Eastern Campus, but it didn't work out. Still, I sat at tables during events, just trying to do outreach and meet people." 
Anderson was also involved in TRiO. He credits the organization with providing a steady hand to guide him in his schoolwork. 
"There are so many people and organizations that helped me at Tri-C," he said. "In the classroom, outside the classroom, they have so many ways of motivating you and sending you on your way." 
Following graduation from Tri-C, Anderson will attend Kent State University to pursue a bachelor's degree in broadcast journalism. 
As he takes the next step in his education, Anderson wants other nontraditional college students to know that earning a degree is still possible. It's never too late to advance your education. 
"Even if you're older than a traditional college student, it can be done," he said. "Just make sure you really want to work for your degree and that you have a plan to achieve your goals." 
Cuyahoga Community College will celebrate the academic achievements of its newest graduates during a Dec. 17 virtual commencement ceremony. Check our News and Events page leading up to the online event as we highlight members of the Class of 2020.
December 10, 2020
Erik Cassano, 216-987-3577 erik.cassano@tri-c.edu