Enzo Zaccardelli Keeps Reaching for New Heights
2016 Tri-C graduate named valedictorian at CSU; will attend grad school at Ohio State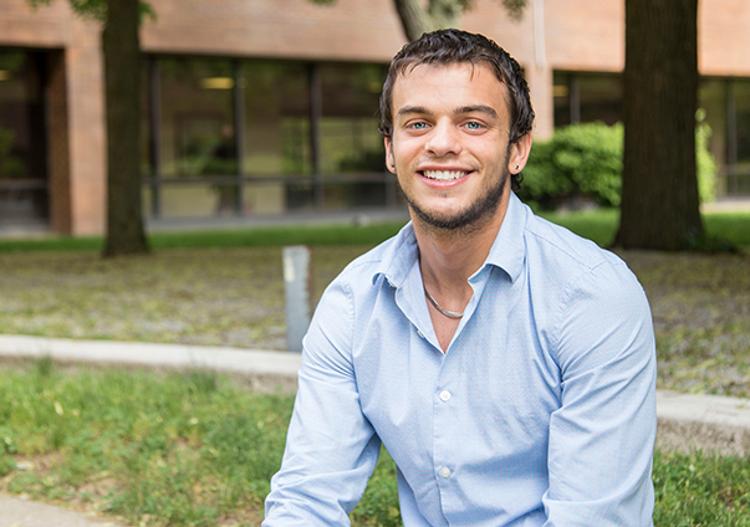 Enzo Zaccardelli remembers the B that changed his entire academic career.
"It was a lab in physical geography, during my first semester (at Cuyahoga Community College)," he said. "You had to study seven or eight pages of notes and take a test right there in class."
Zaccardelli was carrying an A in every other class. The B in physical geography lab thwarted his chance at a perfect GPA. He knew he never wanted another.
So he worked even harder on his studies —and he never saw another B at Tri-C again.
"The pressure was off since I knew I couldn't get a perfect GPA at Tri-C anymore," Zaccardelli said. "But at the same time, it motivated me to get A's in all my classes from that point."
Zaccardelli was a member of Phi Theta Kappa, garnering numerous academic awards during his time at Tri-C, including a place on the All-Ohio Community College Academic Team and a 2015 Coca-Cola Leader of Promise Scholarship. He graduated from Tri-C in 2016 with an Associate of Arts degree and enrolled at Cleveland State University, where he continued his academic excellence while studying history and anthropology.
In May, he graduated as the valedictorian of his class at CSU.
"It is a great honor," Zaccardelli said. "I'm not sure it has even sunk in all the way. It's very humbling."
With such an impressive academic resume, you might think Zaccardelli has always been a high achiever in the classroom — but he wasn't. At Padua Franciscan High School, he wasn't a bad student by any stretch, but he was far from a standout.
"I was basically a C student in high school," he said. "But I think getting that B my first semester while I was getting A's in the rest of my classes really showed me the value of working hard. It showed me that I have to try harder in some areas because they aren't my specialty."
Zaccardelli, 22, will take his exceptional work ethic to Columbus later this year, where he has been accepted to The Ohio State University Department of Anthropology's graduate program. He wants to earn a master's degree and possibly begin studying for a doctorate.
"I want to do hands-on research," he said. "I'm interested in cultural and medical anthropology in particular."
At Ohio State, Zaccardelli plans to research the integration of refugees in underdeveloped regions of Italy.
"There are some poorer regions of southern Italy where they have been able to bring in refugees from two or three different continents, and it has helped to jump-start the economy," he said. "I want to understand why it has worked so well — a poorer region doing better at integrating refugees than some areas with more money."
Though he will soon move on to yet another school in another city, Zaccardelli is still grateful for his start at Tri-C. And he'll always remember that B in physical geography as the nudge he needed to begin achieving great things.
"Tri-C made sense for me for those first two years of college," he said. "I was able to save some money on tuition, and I was able to work with my professors and academic counselors to make sure all my courses transferred to CSU. My goal was always to transfer, and the people at Tri-C worked with me to make sure I had a plan to reach that goal."
June 04, 2018
Erik Cassano, 216-987-3577 or erik.cassano@tri-c.edu