Emergency Alert: Newest 'Tri-C Times' Explores Simulated Scenario Village
Spring 2020 edition of magazine now available online and at select locations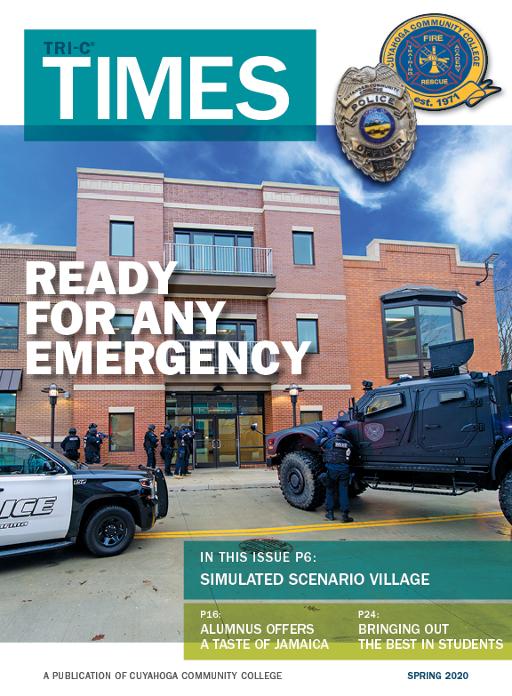 Emergencies are a welcome part of daily life at Simulated Scenario Village at Cuyahoga Community College (Tri-C®).
The cover story for the Spring 2020 edition of Tri-C Times magazine focuses on the newest addition to the KeyBank Public Safety Training Center at Western Campus. The village offers the potential to stage simulations of real-life events that first responders may encounter.
The facility — which drew inspiration from the FBI's training complex in Quantico, Virginia — brings a new level of training to Northeast Ohio.
The newest edition of the magazine also includes a profile on counselor Linda Lanier, whose rise to success after early failures in college powers the endless encouragement she offers this generation of students.
In addition, look for stories on alum Omar McKay, who has brought a taste of Jamaica to Cleveland; student Adam Smith, a veteran who keeps finding new ways to serve; and the College's Institute for Poverty and Urban Education.
The 32-page publication features the work of an award-winning cast of writers and photographers. The magazine is produced by Tri-C's Integrated Communications department.
The College distributes nearly 30,000 free copies of Tri-C Times across Northeast Ohio. Aside from being available at campus sites, it is provided to subscribers of Cleveland Magazine and Smart Business and will be included with the April editions of each publication.
Current and past editions of Tri-C Times are also available online.
March 11, 2020
John Horton, 216-987-4281 john.horton@tri-c.edu