Early Success
Sixteen-year-old Angel Bennett among the graduates at Tri-C's Fall Commencement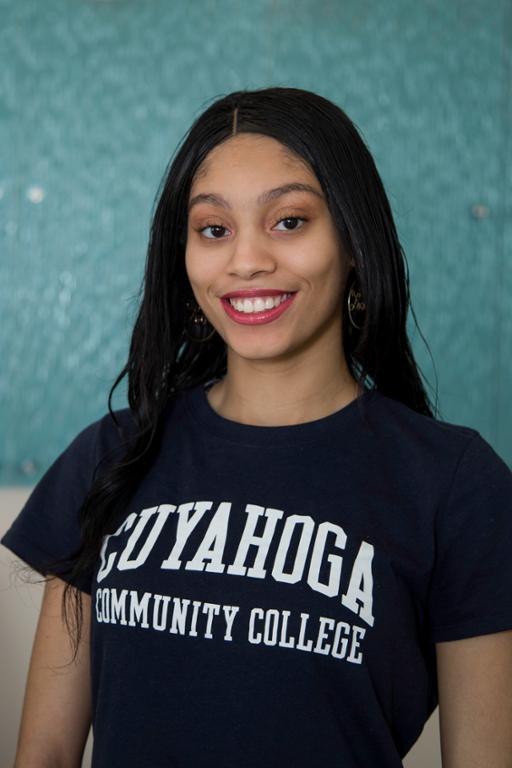 How old are you? Angel Bennett giggled a bit while recalling the question she heard over and over after enrolling at Cuyahoga Community College (Tri-C®) the summer after finishing eighth grade.
"People were super surprised to see a 14-year-old in class," Bennett said.
Just imagine how they'll feel at commencement.
Bennett, now 16, will graduate with honors from Tri-C this month after earning an Associate of Arts degree. She is set to become one of the youngest students ever to stride across the College's commencement stage.
The honor comes just months after Bennett passed her Ohio driver's license exam and nearly a year and a half before her high school graduation.
A counselor at Bennett's online high school — Ohio Connections Academy — recommended that she consider attending Tri-C after reviewing the teen's stellar grades and test scores. Bennett enrolled through the state's College Credit Plus program.
College Credit Plus serves as a dual enrollment system, with students earning college credits while meeting high school graduation requirements. The program is open to teens in grades seven through 12 who are academically ready for more rigorous coursework.
Bennett embraced the challenge given her goal of becoming a pediatrician: "I'm looking at a lot of years of college," she said. "I loved the idea of getting a head start."
Few students as young as Bennett find their way into classrooms on campus. State reports show that less than 5 percent of College Credit Plus students are high school freshmen or in middle school.
Bennett took her first Tri-C courses during the 2016 summer session at Eastern Campus, just a short drive from her Richmond Heights home. Her mother, Angelita, said instructors and counselor Matthew Kasl made her daughter feel at home.
"Her father and I were a little worried given how young she was," said Angelita, who earned an Associate of Technical Studies degree from Tri-C in 2012. "But Tri-C was good for her. She fit right in."
Bennett also excelled academically, with a GPA that sits just north of 3.6. Her rigorous schedule included courses such as college composition, human biology, psychology and contemporary mathematics.
She said she enjoyed learning with the adults in her classes: "It made it feel much more like a professional setting," Bennett said. "I love the environment. The whole experience has been pretty cool."
It went so well, in fact, that her younger sister Amber decided to enroll at Tri-C at age 12 to get a head start on becoming a veterinarian. Look for her graduation success story in another year.
Two other sisters — Anita, 10, and Ashley, 1 — will enter the education pipeline in a few years.
Bennett plans to spend another semester at Tri-C and take enough classes to earn a second associate degree. She expects to transfer to Cleveland State University in fall 2019 to continue building her academic resume through College Credit Plus.
Ideally, she would like to complete her bachelor's degree a year after graduating from high school. After that comes medical school.
"I'm so grateful for this opportunity," Bennett said. "The work has been hard and forced me to push myself, but that's how you learn. That's why I'm here."
Cuyahoga Community College will celebrate the academic achievements of more than 1,800 graduates on Dec. 18 at Fall Commencement. Check our News and Events page in the days leading up to the ceremony as we highlight members of the Class of 2018.
December 16, 2018
John Horton, 216-987-4281 john.horton@tri-c.edu