Drawn to Tri-C
Calvin Brown earns degree while taking a debt-free step toward a career in animation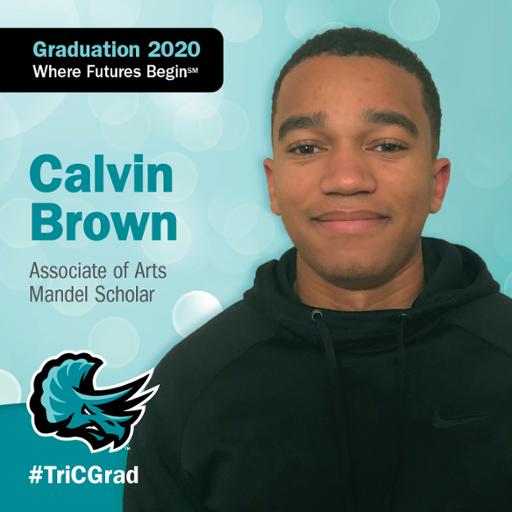 Calvin Brown drew up a perfect storyline during his time at Cuyahoga Community College (Tri-C®). For a future film animator, that seems fitting. 
The 20-year-old is set to graduate from the College in December with an Associate of Arts degree. His next scene is being sketched out for 2021 at Cleveland State University's School of Film and Media Arts. 
It has been a feel-good script … and Tri-C served as the plot twist. 
Brown waited too long during his senior year at Aurora High School to apply for admission to his targeted four-year universities. Missed deadlines led to a series of closed doors. He found his options limited. 
He only turned to Tri-C as a last resort. "If I knew then what I know now, it would have been my first choice," Brown said. 
Stellar grades at Tri-C created unexpected opportunities for Brown. He became a Mandel Scholar at the College's Jack, Joseph and Morton Mandel Humanities Center — an honor that comes with a full scholarship. 
The program includes a pathway to CSU with additional scholarship and academic opportunities. 
He called the Mandel scholarship and his ability to limit college costs "life-changing." 
"Film school is typically expensive to attend," Brown said. "Tri-C kept me from being crippled by student debt while giving me the opportunity to do something great for a career." 
Brown remembers doing stop-action animation with Lego figures when he was 10 years old. In high school, he began experimenting with 3D animation. His time at Tri-C included the production of a few short films. 
He now hopes to merge his love of drawing with filmmaking lessons at CSU. 
"What I love about animation is that you're not bound by reality," Brown said. "You can bring anything in your mind to life. That's part of what I learned at Tri-C. That's what I'm carrying forward." 
Cuyahoga Community College will celebrate the academic achievements of its newest graduates during a Dec. 17 virtual commencement ceremony. Check our News and Events page leading up to the online event as we highlight members of the Class of 2020.
December 05, 2020
Leanne van Beers-Werneke, 216-987-2201 leanne.van-beers-werneke@tri-c.edu