Designing a New Future
Tri-C inspired Malcolm Bellew to embrace his creativity and build a new career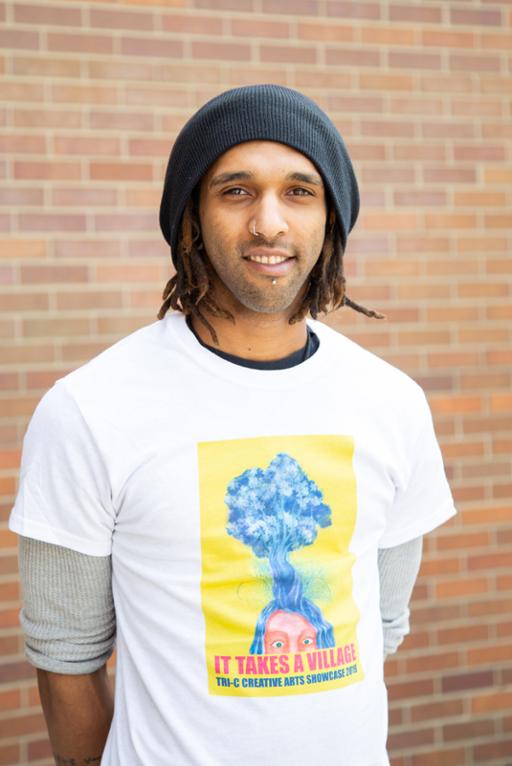 Malcolm Bellew felt trapped inside the factory walls where he pulled shift after monotonous shift. The paychecks kept his wallet filled, but he felt his creative spirit being crushed every time he punched the clock.
"I didn't care about it," he said. "I knew I had to make a change."
So one day on his lunch break, he called Cuyahoga Community College (Tri-C®). The conversation led to an invitation to attend orientation. He enrolled in classes soon after and changed his life's course.
Three years later, Bellew is set to graduate from Tri-C with an Associate of Applied Business degree in visual communication and design with a concentration in graphic design.
The degree builds upon Bellew's creative skills and love of illustration design. He explored the field while in high school but veered away from it after graduation. Instead of college, he opted to take the factory job … a decision he soon regretted.
"It took going through some trying times to make me want to get out," said the 30-year-old, who grew up in Cleveland and now lives in Lakewood. "I doubted I could go back to school and was concerned about paying for it."
Tri-C offered affordable tuition and a strong program with transfer opportunities. Bellew found the classes at Tri-C's Western Campus inspiring and quickly turned his focus to graphic design. He left his factory job soon after.
He credits instructor Seong-Ae Mun's design studio class with showing him the possibilities of a career in the industry.
"The class was different, more real-world," Bellew said. "Seong-Ae pushed the idea of us being designers on our own and gave us more freedom. It was a different structure than the others, and I liked that."
The course inspired Bellew to begin working as a graphic design freelancer, where he is flourishing. He is currently exploring the option of co-owning a design company with a friend to build on the business.
He links all of the opportunities to his time at the College.
"I wouldn't have had the knowledge, experience and confidence to go out and do work for somebody if it weren't for Tri-C," Bellew said. "It's been a life-changing experience for me."
Cuyahoga Community College will celebrate the academic achievements of thousands of students on May 16 at Spring Commencement. Check our News and Events page in the days leading up to the ceremony as we highlight members of the Class of 2019.
May 13, 2019
Madeline Shepherd, 216-987-4616 madeline.shepherd@tri-c.edu