Daughter of Tri-C Administrator Remembers Her Roots
Monti Becker Kelly has connection to College through family scholarship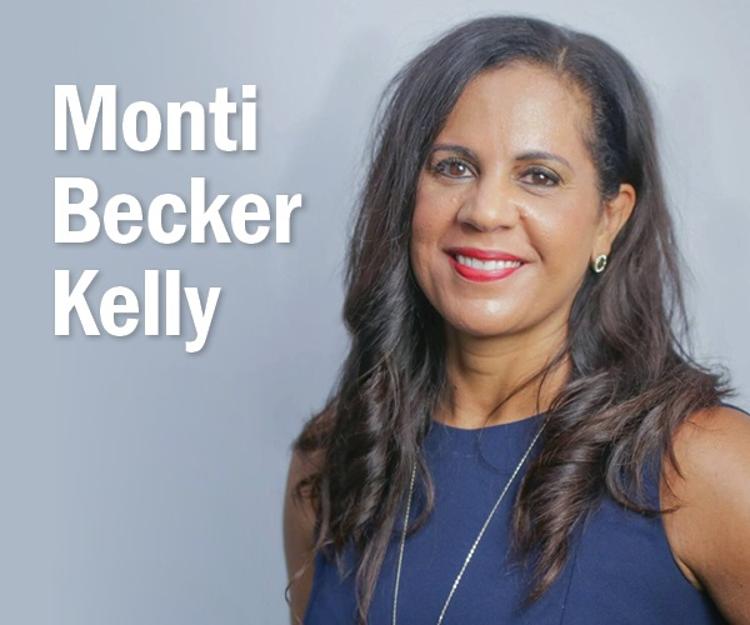 What do you do when the Oprah Winfrey Network says it's interested in your life story?

Monti Becker Kelly is one of the few people who has needed an answer to that question.

A high-ranking professional in the technology and customer experience industry, Becker Kelly is one of the most successful Black women in Charlotte, North Carolina. The senior vice president at [24]7.ai — an artificial intelligence software and service provider for businesses — is passionate about community service, civil rights and social justice, serving in a variety of mentorship and leadership roles throughout the Charlotte area.

But there's another chapter to Becker Kelly's story, and it started more than 40 years ago at Cuyahoga Community College (Tri-C®). Her mother, Tri-C administrator and English instructor Stanli Becker, founded the College's Jesse Owens Olympian Youth Summer Development Program in the 1970s to teach children important life skills. Her efforts working to improve the lives of Cleveland youth were recognized at the White House in the early 1980s.

As a teen, Becker Kelly assisted her mother in working with program participants — mainly Black, inner-city students. It's that journey from community-minded Cleveland youth to successful Charlotte businesswoman that caught the attention of the Oprah Winfrey Network (OWN).

"There's a new show being produced for OWN called Delilah," Becker Kelly said. "It's a legal drama set in Charlotte, highlighting real experiences of Black women as they balance their lives and stand up for what is meaningful to them. As part of that, they started searching for real-life 'Delilahs' with personal stories that align with the plot of the series."

Becker Kelly, who moved to Charlotte 18 years ago, belongs to the Queen City Metropolitan Chapter of the National Coalition of 100 Black Women (NCBW) — and it was through her NCBW relationships that OWN discovered her story. She was asked to pen an essay and give an interview outlining her history, goals and community outreach work. It was published on oprah.com at the end of March.

And when you get the kind of publicity Winfrey's media empire can provide, it quickly opens other doors.

"This is such an honor and a humbling experience," Becker Kelly said. "Through this opportunity, I'm continuing to advance the causes I'm passionate about, and one of them is at Tri-C."

A mother's legacy
Stanli Becker suffered from Type 1 diabetes, which created health challenges throughout her life. She eventually required a kidney transplant, but complications arose. She passed away in 1993 at age 50.

Becker was devoted to Cleveland's underserved youth, working tirelessly to improve their access to education, health and fitness, and other paths to a more fulfilling life. Her unexpected death left unfinished work.

That's why, shortly after her mother's death, Becker Kelly established the Stanli K. Becker Memorial Scholarship Fund.

"Hundreds of people attended her funeral, so I used the registry to begin asking for donations," Becker Kelly said. "Working with the Cuyahoga Community College Foundation, we sent out handwritten letters and made phone calls, ultimately raising $10,000 to start the fund."

The scholarship awards money to several students each academic year who might not otherwise have the financial support to stay in school. The focus of the scholarship is Cleveland students at Tri-C who promote academic excellence, cultural enrichment and career exploration. Eligible students must maintain at least a 2.5 GPA and take a full course load (12 credit hours) each semester.

Becker Kelly's essay for OWN prominently mentions her mother's scholarship, and as more people have read it, she has seen a significant increase in donation requests. She hopes to continue that trend — in the Cleveland area and beyond.

"I'm getting interest from friends, coworkers, those I'm connected to on social media," she said. "These are people who didn't even know my mom, and they're wanting to support her scholarship fund. The outpouring has been incredible."

The main character of Delilah — played by Cleveland native Maahra Hill — is a Black female attorney who leaves her job at an establishment law firm to fight for the underrepresented and disenfranchised. Becker Kelly knows one of the reasons OWN was interested in her story as a "real-life Delilah" is because her mother taught her many of the same lessons: get involved in the community and work to improve the lives of those who need help.

"My passion for helping people was solidified at an early age," she said. "My story is strongly rooted in my mother's story. It's part of her legacy. And one of the best ways I can honor that legacy is to continue supporting her scholarship at Tri-C and encouraging others to do the same."

Visit tri-c.edu/give to donate to the Stanli K. Becker Memorial Scholarship Fund.
April 07, 2021
Erik Cassano, 216-987-3577 or erik.cassano@tri-c.edu