Creating Career Connections in IT
Sam Bregar builds in-demand computer skills while earning associate degree from Tri-C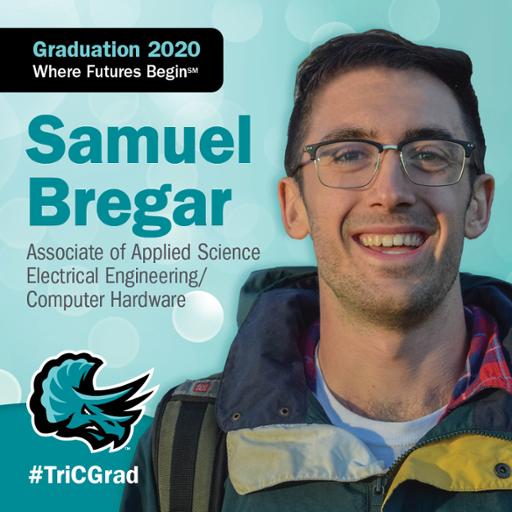 Sam Bregar solves computer problems around the world with knowledge he gained at Cuyahoga Community College (Tri-C®). 
A global company hired Bregar as a help desk analyst while the 23-year-old finished his studies at Tri-C. He'll graduate this month with an Associate of Applied Science degree in electrical engineering and computer network hardware. 
"Tri-C's IT program gets you workforce-ready," said Bregar, who lives in Akron. "It helped me step right into my job." 
And that's exactly why he chose to enroll at the College in spring 2019. 
Bregar said he was drawn to Tri-C's certification-based approach to IT training, which he believed would open doors to employment. Regional reports show that tech-savvy workers are in high demand across Northeast Ohio. 
MRI Software hired Bregar in May soon after he earned CompTIA Network+ certification through the College. The Solon-based company is a leading provider of real estate software applications, with offices around the world. 
"I have no doubt the certification helped me land the job," Bregar said. 
His experience at Tri-C boosted his resume, too. Bregar served as a PC network technician intern at the College in summer 2019 before being hired part time as a student IT assistant early this year. 
He also launched an IT Club at Metropolitan Campus "to build a sense of community" among his classmates and create networking opportunities. 
Through it all, Bregar maintained a GPA that will allow him to graduate with honors. 
Long-term, Bregar said he's interested in career paths within cybersecurity and blockchain. He said his courses and training at the College position him well for whatever direction he decides to take. 
In the meantime, he'll continue answering questions for MRI Software clients in the United Kingdom, India, South Africa and other nations around the world. 
"Tri-C made me realize what was possible in this field," Bregar said. "Opportunities are there." 
Cuyahoga Community College will celebrate the academic achievements of its newest graduates during a Dec. 17 virtual commencement ceremony. Check our News and Events page leading up to the online event as we highlight members of the Class of 2020.
December 02, 2020
John Horton, 216-987-4281 john.horton@tri-c.edu