COVID-19 Response: Tri-C Foundation Committing Resources to Students
Foundation funding has assisted with online learning and emergency needs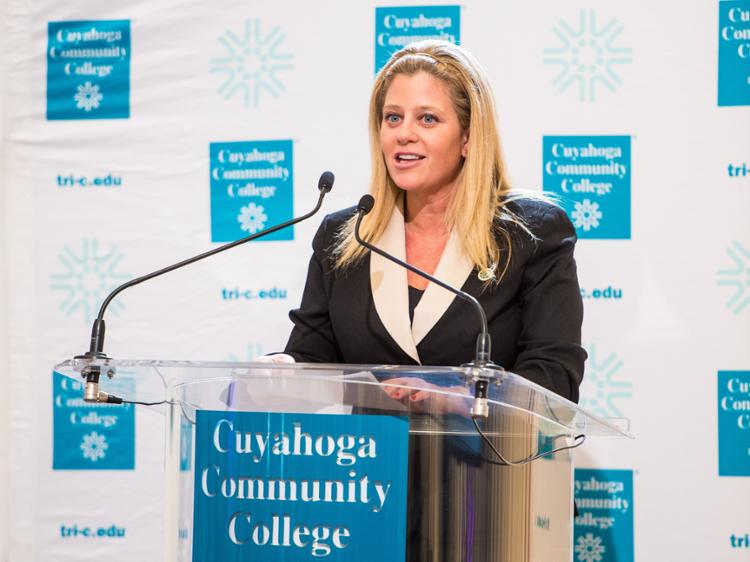 Over the past month, Cuyahoga Community College students, faculty and staff have had to make the unprecedented adjustment to a fully online learning format.

But as the College has taken substantial safe distancing measures to help slow the spread of COVID-19, it has created an entirely new set of challenges ― many of which pose a threat to keeping students in school and on track to graduate.

In a recent WKYC segment, Cuyahoga Community College Foundation President Megan O'Bryan discussed steps the Foundation has taken to help students in need and how area residents can assist by going to www.tri-c.edu/give.

These steps include expansion of the Foundation's Student Emergency Fund. Established in 2017, the fund is available to help students with short-term financial problems.

"We found that $450 could really make or break whether a student would stay in school," O'Bryan told WKYC. "This fund helps students through a short-term crisis like a car repair … utility bills, food and rent."

In the first two weeks following the move to remote instruction, the Foundation stepped up its efforts to acquire donation money for the Student Emergency Fund. Since then, the fund has fulfilled 330 requests for financial assistance. In comparison, the fund fulfilled 125 requests during the entirety of the previous academic year.

"With students losing jobs and being affected by this crisis, their needs have just escalated," O'Bryan told WKYC.

The Foundation has also been active in connecting students to technology at home. Prior to the pandemic, about 15% of Tri-C's classes were delivered online. Adding the remaining 85% has meant assisting in efforts to provide computers, laptops and internet access for low-income households that previously did not have them.

"Our students have phones for the most part, but we realize phones aren't always the best for taking online classes," O'Bryan continued. "So we understood we had a great need to get technology to students."

The College has been operating with a fully online learning format since March 23 and will continue to do so through the end of summer session in August.

The need for technological and financial assistance is ongoing. If you are interested in donating to the Student Emergency Fund, please visit the Foundation giving link above.
April 17, 2020
Erik Cassano, 216-987-3577 or erik.cassano@tri-c.edu