Construction to Begin on Westshore Campus Center
March 27 groundbreaking ceremony marks start of project at Westlake site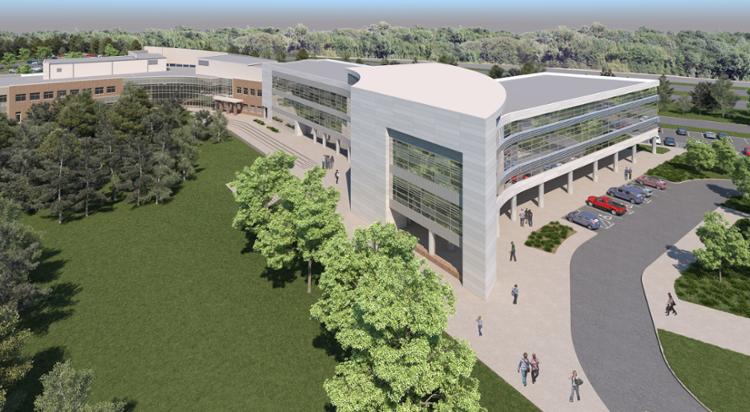 Cuyahoga Community College (Tri-C®) is giving its fastest-growing campus some much-needed room with the construction of a second building at Westshore Campus.
A groundbreaking ceremony for the new Westshore Campus Center will take place at 11:30 a.m. Tuesday, March 27. The $40 million project addresses a space shortage that resulted in classes being scheduled at the College's Corporate College® West building across town.
"The expansion of Westshore Campus will fulfill our commitment to provide access to a comprehensive educational experience in these booming communities," said Alex Johnson, president of Tri-C. "The Campus Center will not only increase convenience for our students and faculty, but also better position our students for success in their education and careers."
The nearly 89,000-square-foot Westshore Campus Center will feature more than 30 classrooms as well as specialized labs dedicated to engineering and information technology. Plans also include areas for tutoring and other student support services.
The project will expand upon learning opportunities available at the site and fulfill the original vision for Westshore Campus, which opened in 2011.
The campus posted record enrollment numbers this academic year, with double-digit percentage increases for both fall and spring semesters. The registration surge pushed the student population at the campus to nearly 2,200.
Construction of the new Campus Center and related renovations to the existing building should be complete by fall 2019. Westshore Campus is located at 31001 Clemens Road in Westlake.
Voter approval of Tri-C's bond issue request in November made the project possible. Approval of Issue 61 raised $227.5 million for the College to create new instructional space, keep pace with changing technology and address decades of wear and tear on buildings.
The Westshore expansion is one of several construction projects launching this year. In January, the College held a groundbreaking ceremony for the new Western Campus STEM Center. Work also will begin in 2018 at the Advanced Technology Training Center in Cleveland, the Public Safety Training Center in Parma Heights and the Automotive Technology Center at Western Campus in Parma.
March 22, 2018
John Horton, 216-987-4281 john.horton@tri-c.edu