College Efforts to Boost Student Success Outlined in 'Tri-C Times'
Fall 2019 edition of magazine now available online and at select locations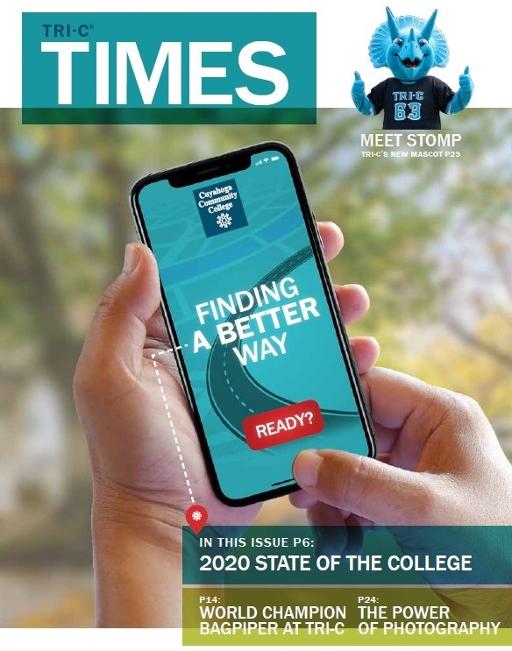 When we work together at Cuyahoga Community College (Tri-C®), we find a better way.
Changes at the College in recent years prove that point. Under the direction of Tri-C President Alex Johnson, new initiatives have transformed the student experience and lifted success metrics to levels unprecedented in the institution's history.
The newest edition of Tri-C Times celebrates these achievements while gazing ahead to 2020. This "State of the College" report serves as the cover story of the Fall 2019 issue, which highlights students, staff, programs and alumni of the College.
The magazine also includes a profile on photography professor Daniel Levin, whose powerful photographs documenting the preservation of violins played by Jewish musicians during the Holocaust continues to tour the nation.
In addition, look for stories on alum Rhonda Crowder, who launched a literacy project in Cleveland's Hough neighborhood; student Anne Gallo, a world bagpiping champion; and the College's Preventative Care Center, which just surpassed a major milestone.
The 32-page publication features the work of an award-winning cast of writers and photographers. The magazine is produced by Tri-C's Integrated Communications department.
The College distributes nearly 30,000 free copies of Tri-C Times across Northeast Ohio. Aside from being available at campus sites, it is provided to subscribers of Cleveland Magazine and Smart Business and will be included with the January editions of each publication.
Current and past editions of Tri-C Times are also available online.
December 11, 2019
John Horton, 216-987-4281 john.horton@tri-c.edu