Cleveland Scholar House Planned Near Metro Campus
Tri-C a core partner in effort to build service-enriched apartments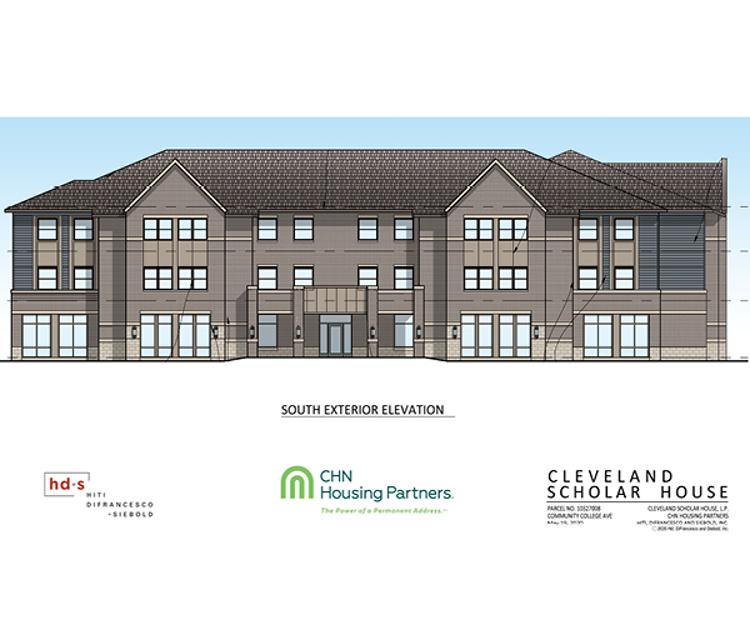 CHN Housing Partners and the United Way of Greater Cleveland have jointly announced a plan to build the Cleveland Scholar House, a service-enriched apartment building for single college-student parents and their minor children.

Cuyahoga Community College (Tri-C®) has been a core partner in the Cleveland Scholar House effort, along with the Cleveland Metropolitan Housing Authority, Cleveland State University and Step Forward.
The project will be funded through the Low-Income Housing Tax Credit, announced Wednesday by the Ohio Housing Finance Agency. The tax credit is expected to generate more than $9 million — about 75% of the building's $12 million development cost.

"We're proud to be a part of this effort," said Tri-C President Alex Johnson. "The Cleveland Scholar House is so much more than another apartment building. This is an opportunity to provide services and support that can assist students in changing their lives and the lives of their families."

The Cleveland Scholar House will offer support for tenants in five key areas:

Stable housing: CHN will develop the building on vacant land within walking distance of CSU and Tri-C. Amenities will include study space, a computer lab, common space for parenting classes and family activities, as well as child play space.

Rental support: CMHA will provide 40 project-based vouchers and will lease the land for the building.

High-quality child care: Step Forward will provide on-site day care.

Academic support: CSU and Tri-C will provide life skills, academic counseling and cohort support for first-generation college students.

Resident services: CHN, United Way and others will coordinate wraparound services, including mental health counseling, financial literacy, and access to benefits and other services.

The building, to be located on Community College Avenue across the street from Tri-C's Metropolitan Campus, will consist of 33 two-bedroom units and seven three-bedroom units.

"The Cleveland Scholar House is a major addition to the neighborhood around our campus," said Denise McCory, president of the Tri-C Metro Campus. "It will assist a number of our students in completing their studies and earning their degrees."

CHN Housing Partners will develop, own and manage the property, while the United Way of Greater Cleveland coordinate wraparound services for building residents.
May 20, 2021
Erik Cassano, 216-987-3577 or erik.cassano@tri-c.edu