Cleveland Eats: Serving Up Job Opportunities
Sept. 15 festival gives Tri-C students a chance to showcase their skills to top chefs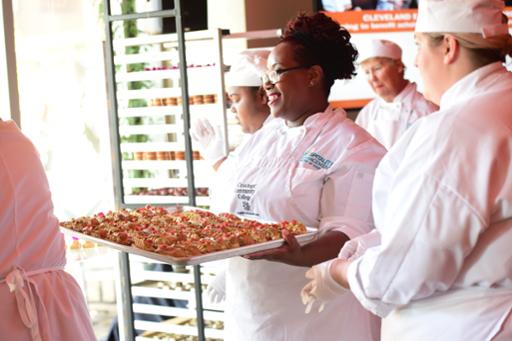 Most people look at Cleveland Eats and see an opportunity to nosh at a culinary festival organized by the Hospitality Management Center of Excellence at Cuyahoga Community College (Tri-C®).
For some, though, the festival serves as a job interview.
Cleveland Eats offers Tri-C culinary students a chance to work alongside — and impress — the city's top chefs. More than a few students left last year's festival with employment offers, according to Karen Monath, the College's associate dean of hospitality management.
A recent story by Edible Cleveland explains how the festival showcases Tri-C's vital role in training the skilled workers needed to continue the region's restaurant renaissance.
Of course, the event is also about food. Really, really good food.
Thirty restaurants, caterers and treat makers will dish out their mouthwatering specialties at Cleveland Eats, which will take place Saturday, Sept. 15, at the Mall B outdoor event space above the Huntington Convention Center of Cleveland.
Admission to the festival is $5, with children age 12 and under admitted free. Small plate samples will be available for $5 or less.
For more information, or to purchase advance tickets, visit www.cleveland-eats.com.
September 04, 2018
John Horton, 216-987-4281 john.horton@tri-c.edu