Chris Coles Brings Nine Lives Project to Tri-C
Musical and choreographed performance comes to Metro Campus Nov. 14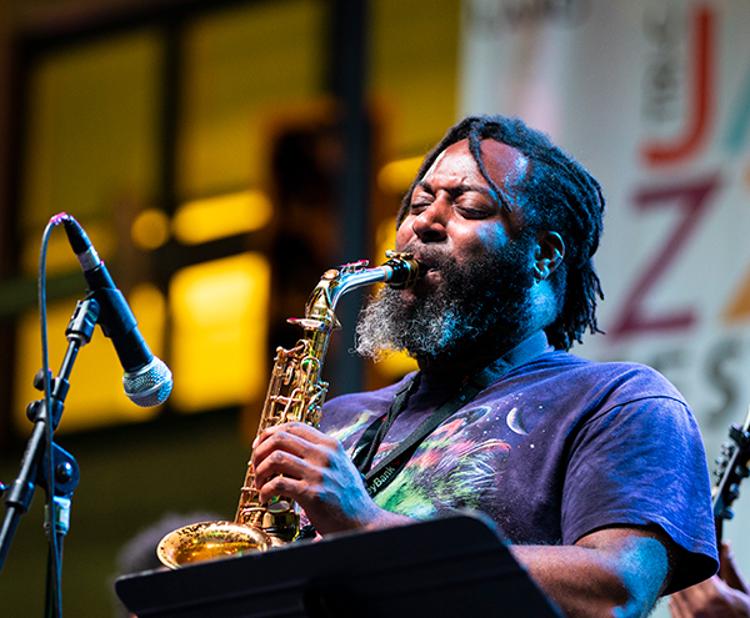 Saxophonist, composer and educator Chris Coles will perform his Nine Lives Project — a meditation on the 2015 Charleston church shooting — at Cuyahoga Community College (Tri-C®) on Sunday, Nov. 14.

The free performance takes place at 7 p.m. in the auditorium at Tri-C's Metropolitan Campus in Cleveland. The event is co-presented by Tri-C Performing Arts and the Local 4 Music Fund.

Nine Lives tells the story of the 2015 shooting in Charleston, South Carolina, in which a white supremacist killed nine Black parishioners at Emanuel AME Church. It is an immersive musical and choreographed performance involving different mediums — including jazz, dance and animation — and reflecting on issues of social justice, racial inequality and gun violence.

"Jazz artists have a lot to say about the world around them, and we feel strongly about making sure their voices are heard," said Terri Pontremoli, director of Tri-C Performing Arts and Tri-C JazzFest. "Chris is an important composer in Northeast Ohio, and we are thrilled to partner with Local 4 Music Fund to present his work."

Named one of Cleveland Magazine's "Most Interesting People of 2021," Coles serves on the faculty of the Tri-C JazzFest Academy and Kent State University. In 2017, he was awarded a Knight Foundation Arts Challenge Grant for the Nine Lives Project.

The performance features a stellar cast of local and national artists. Admission is free, but reservations are required. Visit ninelives2021.eventbrite.com to reserve your seat.

Free parking is available in Metro Campus Lot 5, off Woodland Avenue.

All audience, staff and performers must show proof of COVID-19 vaccination to be admitted to any Local 4 Music Fund event. Acceptable documentation includes a physical or digital copy of a COVID-19 vaccination record card or other proof, as permitted locally, that can be matched with your driver's license or state ID. Masks are required for all audience members, staff and technical personnel.

Tri-C's 2021-2022 Performing Arts season features classical piano, jazz and dance, bringing a world-class artistic experience to the Greater Cleveland community. Learn more at tri-c.edu/performingarts.
October 25, 2021
Erik Cassano, 216-987-3577 or erik.cassano@tri-c.edu