Choose Ohio First Scholarship Recipients 'Motor' Toward Degrees at Tri-C
Automotive technology graduates highlight effectiveness of state program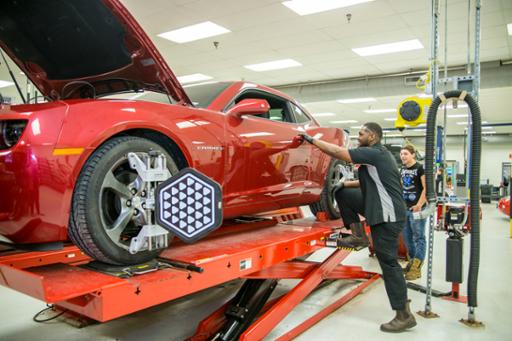 The Choose Ohio First scholarship program put students on the road to success in the Automotive Technology program at Cuyahoga Community College (Tri-C®). 
Fifteen Choose Ohio First scholarship recipients graduated from Tri-C's auto tech program in May, according to a story in the summer edition of ConnectED. The publication is produced by the Ohio Department of Higher Education. 
The story highlighted Tri-C students who trained in either the General Motors Automotive Service Educational Program (GM ASEP) or Ford's Automotive Student Service Educational Training (ASSET) program. 
Graduates left the College's training center at Western Campus with an Associate of Applied Science degree. Better yet, they all left with jobs. 
Those results fulfill the mission of Choose Ohio First, which was created to strengthen the state's workforce in STEMM disciplines — science, technology, engineering, mathematics and medicine. 
Kitty McCarthy, director of Tri-C's auto tech program, told ConnectED that the scholarship program helps Northeast Ohio residents who want to build a career and life in local communities. 
Click here to view the summer edition of ConnectED. The story on Tri-C begins on page 6.
July 16, 2020
John Horton, 216-987-4281 john.horton@tri-c.edu