Chefs on Cleveland Eats Culinary Council Add Spice to Downtown Festival
Council members represent the best of the city's culinary scene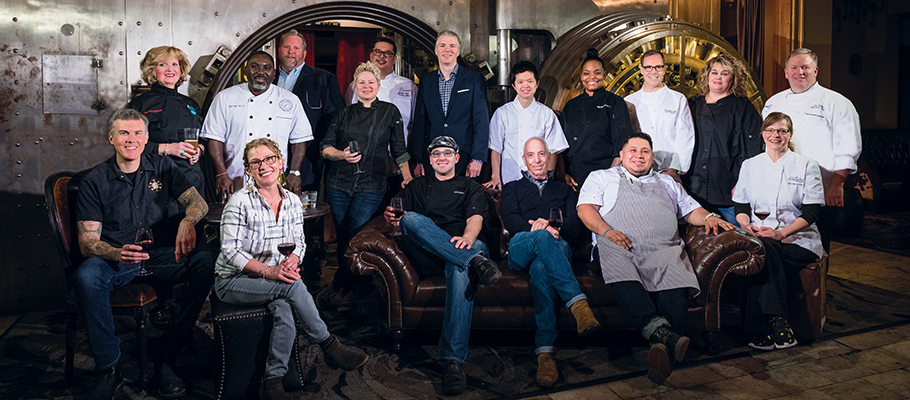 There's no such thing as too many chefs in the kitchen when it comes to Cleveland Eats, a culinary festival organized by the Hospitality Management Center of Excellence at Cuyahoga Community College (Tri-C®).
Nineteen of the city's top chefs have agreed to serve on the Culinary Council guiding the festival, which will take place Sept. 15 at the Mall B outdoor event space above the Huntington Convention Center of Cleveland.
"This group provides the leadership to ensure the event is driven by the best of Cleveland's culinary scene," said Michael Huff, the College's dean of hospitality management.
The 2018 Culinary Council includes:
Dante Boccuzzi, chef/owner of Dante Dining Group
Zack Bruell, chef/owner of Zack Bruell Restaurant Group
Nelly Buleje, executive chef at Metropolitan at The 9
Brandon Chrostowski, chef/president/CEO of EDWINS Leadership and Restaurant Institute
Britt-Marie Culey, pastry chef/owner of Coquette Patisserie
Brandt Evans, chef/owner of Pura Vida by Brandt and Blue Canyon
Matt Fish, chef/owner of Melt Bar and Grilled
Heather Haviland, chef/owner of Lucky's Café
Christopher Kafcsak, chef/owner of Nomad Culinary
Doug Katz, chef/owner of fire food and drink and Fire Spice Company
Joseph Lang, executive chef at Red, the Steakhouse
Shuxin Liu, chef/owner of Xinji Noodle Bar
Karen Monath, associate dean and chef at Tri-C's Hospitality Management Center
Chris Poplin, executive chef at Hard Rock Rocksino
Regan Reik, executive chef at Pier W
Karen Small, chef/owner of Flying Fig
April Thompson, chef/owner of Wild Thymez Personal Chef Service
Jill Vedaa, chef/co-owner of Salt+
Eric Wells, chef/owner of Skye LaRae's Culinary Services
Cleveland Eats serves to showcase the hospitality industry's impact on the Northeast Ohio economy and Tri-C's vital role in training the skilled workers needed to continue the region's restaurant renaissance.
The celebration turns Mall B into a downtown dining room with food and drink from the region's top chefs, restaurants and breweries. More than 8,000 attended the inaugural festival in 2017.
Northeast Ohio's top chefs turn the festival site into their own personal kitchen, preparing mouthwatering specialties that will be available for purchase. Local breweries will be on hand with barley-and-hops creations to quench any thirst.
The family-friendly event will also feature cooking demonstrations, onstage musical performances, a culinary marketplace and children's activities.
Admission will be $5, with children age 12 and under admitted free. Details on schedules and participating chefs, restaurants and breweries will be released closer to the event.
For more information, visit www.cleveland-eats.com.
April 27, 2018
John Horton, 216-987-4281 john.horton@tri-c.edu