Celebrating Valentine's Day: A Tri-C Love Story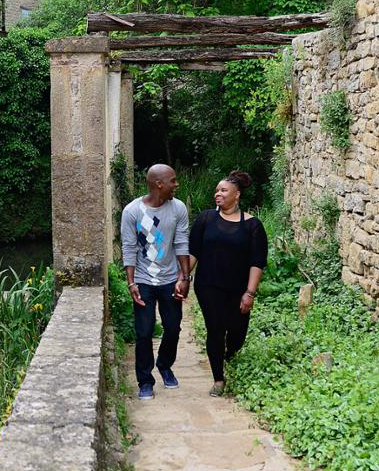 It goes without saying that college is a great place to get an education. This Valentine's Day, one couple shows us that the Tri-C experience can impact your life far beyond finals and term papers. 
You've heard the saying that the best relationships happen unexpectedly. For Ramat and McKinley Wiley, a strong friendship and connections to Cuyahoga Community College form the basis for what is now an adventure-filled marriage.

The couple met at a poetry night in Cleveland Heights. Ramat, a Tri-C graduate, often attended readings with her mother, and McKinley was part of the group. The two became friends and kept in touch throughout the years. When Ramat's mother passed away in 2010, McKinley played a large role in helping plan the memorial. As the pair grew closer, romance soon followed.

On a hot July day in 2016, the Wileys tied the knot at a small ceremony. Ramat walked down the aisle to Curtis Mayfield's "Give Me Your Love," and the duo's first dance as a married couple was set to Roy Ayers' rendition of "You Send Me."

Recalling their favorite part of that day, the couple agrees: "Having all the people around from so many different facets of our lives. You realize how everything ties together."

Tri-C is one of those facets. Chef Maureen Leonard of the College's Hospitality Management program created all of the desserts for the Wiley wedding, including a "naked" wedding cake featuring lemon curd and raspberry filling. 
Ramat knew Chef Maureen from her time spent as a student in the Culinary Arts program. A 2016 graduate, she knows firsthand how Tri-C can impact your life outside the classroom.

"Tri-C and the people from my program are like family," she said. "If I come across job openings in the culinary field, I let the instructors know. If I have a day off, I go back and visit."

Meanwhile, McKinley's Tri-C experience has mainly been behind-the-scenes. As a freelance photographer, he's captured memories at the Presidential Scholarship Luncheon, Cleveland Eats and other College-wide events.

While Tri-C has impacted them both in very different ways, the couple continues to incorporate the College into their lives by attending events at the Hospitality Management Center as well as Tri-C JazzFest Cleveland and Cleveland Eats.

"Ramat is my concierge," McKinley said. "She plans my social calendar."

The Wileys reside in the Edgewater neighborhood. They balance their active social lives with plenty of nights at home, binge-watching their favorite television shows.

So what's next for the couple?

Besides various Tri-C events, their 2018 agenda includes trips to Hawaii and Nigeria. Previous adventures have taken them to France, Puerto Rico, Houston and Jamaica.

"We're having a lot of fun," Ramat said. 
February 12, 2018